Sugababes 'still waiting for Jay-Z introduction'
23 February 2010

From the section

Music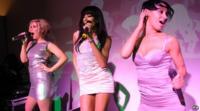 Sugababes say that getting signed by Jay-Z's record label was a "compliment" but admit they're still waiting to meet the rap star.
The group recently penned a contract with Roc Nation with the intention of breaking the US market.
Singer Amelle Berrabah thinks achieving success Stateside would be great but isn't too important.
"We're very happy," she admitted. "But you should always aspire to do more if you can.
"If it doesn't work out then it doesn't work out, it's just one of those things."
The group's planning to tour America towards the end of the year.
In the meantime, the girls have been working with well-known hip hop names like Ne-Yo and RedOne on their upcoming album (due in March) and say it's been a great experience.
"We've got a collaboration with Sean Kingston too," reveals Sugababes' newest member Jade Ewen. "We're really excited about it. We really love that tune."
The group has also released a new single from the record, Wear My Kiss, which they describe as "cheeky, fun and flirty".
The girls say it reflects the up-tempo nature of their seventh album.
Missed connections
However, hooking up with the man behind their new project has been a problem so far.
The girls missed Roc Nation boss Jay-Z on a recent trip to the US and also left without an introduction at last week's Brits.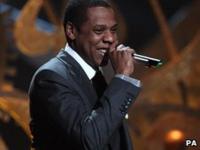 Jade explained: "We were supposed to meet him and then he won an award. We went to his table but he was still at the press round."
The girls say they're hoping to finally catch up with him at one of his summer shows.
The rapper is lined up to play at the Isle of Wight, Wireless and T in the Park festivals.
Jade Ewen also spoke about her controversial introduction to Sugababes.
The 22-year-old, who represented the UK in last year's Eurovision song contest, replaced founding member Keisha Buchanan in September amid rumours of a rift in the band.
"Things have always been cool with us, but it was a lot of pressure, a lot of tension," Jade said.
"It's hard going out to gigs and feeling like people hate you."
The singer says she's thankful things have now settled down.
"People are supportive," she said. "We seem to be winning them around. The music hopefully will speak for itself."