Muse say playing Glastonbury this year 'will be strange'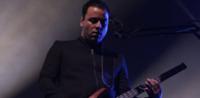 Muse have said their headline appearance at this year's 40th anniversary Glastonbury will be "very strange".
The Teignmouth trio last topped the bill at Pilton farm in 2004 where their night was overshadowed by the sudden death of drummer Dominic Howard's father backstage following their performance.
Speaking to Newsbeat bassist Chris Wolstenholme said: "Last time we played it was the highest and lowest point of our life in terms of the band's career - it's going to be very strange going back."
The band are to headline to Pyramid stage on Saturday 26 June where they'll be joined by headliners U2 (Friday) and Stevie Wonder (Sunday).
'Defining' gig
Reflecting on the significance of their last performance at the Somerset festival, Wolstenholme added: "That gig was a defining point in the life of this band.
"When people saw us headline Glastonbury we went in as underdogs and a lot of people were saying, 'Why are Muse headlining this festival? They're not a big band'.
"I think a lot of people wanted us to do it and fail and we didn't. We went out there had the best gig of our lives.
"The band has grown a lot since we played there last time. It is going to be nice to go back but with everything else that happened obviously there are going to be some mixed emotions."
The 175,000 tickets for this year's Glastonbury have sold out.