'It's nice to take charge of how you're seen'
9 February 2010

From the section

Music
Vidi-casts? Podeos? Vodcasts? Whatever they're called, some bands are ditching writing blogs and turning to self-made short tour films instead.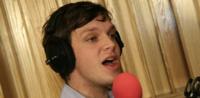 Time was when an artist's tour diary would involve a magazine journalist and photographer reserving beds on an already decaying tour bus to keep account of the on-road escapades.
But then came the blog. Bands across the world recapping their own adventures on their websites, Facebook or MySpace.
Even now, a couple of years on, Lily Allen, Noel Gallagher and Kanye West's blogs can make international headlines with their jotted thoughts. A category for Best Band Blog recognising them even launched at the NME Awards.
But now some artists are putting down their keyboards to make their own short films.
Snatches of footage
Friendly Fires, nominated this year for two Brit Awards for British Breakthrough Act and British Group, make their own "podeos". The latest, released this week (8 February), charts their recent east-to-west coast US tour.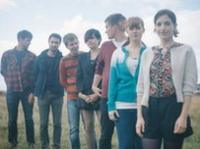 "We used to write quite often about day to day goings on and keep a little tour diary, but it is just a more fun way of doing that," says guitarist Edd Gibson.
It's a simple idea. The threesome take a hand-held flip-camera along on tour with them - film anything and everything, edit it into a digestible size and make it freely available directly to fans via outlets like YouTube and iTunes.
"Its just to take little snatches of footage whenever we can be bothered and then someone takes it and edits it into something that's quite funny," says drummer Jack Savidge.
"They represent quite a realist view of what it's like to be in a band," adds lead singer Ed MacFarlane.
"It's not us hanging out on yachts drinking with groupies because that just doesn't happen - most of it is sat in airports feeling depressed waiting to play a gig."
Other bands
Of course the St Albans dance-poppers aren't the only band who've taken to making home-made videos for fans.
British groups like Sunshine Underground, Dananananakroyd, Los Campesinos! and Baddies also catalogue their experiences on camera.
"It can be quite fun and you see lots of ludicrous things," says Gibson picking up again. "It's good to capture little snapshots, five seconds from across the world.
"It's nice to take charge of how you're seen as well. We don't really perform to the camera at all."
"It works for some bands like us," concludes MacFarlane.
"If you're Prince then you probably don't want to film yourself waking up making breakfast because you want to keep some mysticism.
"We're not that kind of band so we can get away with it."