Police and trading standards raid suspected loan shark
4 February 2010

From the section

Politics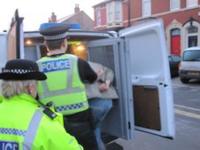 As more people struggle for cash during the financial crisis, Newsbeat has spent time with units set up by the government to clampdown on loan sharks.
Since illegal money lending teams were set up in 2004 there have been more than 700 investigations into the practice.
One of those has led to a tip-off, with police and investigators from one of the teams raiding a house in Blackpool.
Their job is to search the home of a man and a woman suspected of handing out illegal loans.
Half an hour later neighbours are stood in their doorways staring at a police van as it pulls up to the house.
Some of them hang around for long enough to watch the two suspects marched out in handcuffs.
Search for evidence
The illegal money lending team sift through every part of the house.
Tony Quigley is the team manager of the north-west trading standards illegal money lending team.
He said: "My team are looking through documents, bits of paper and other items to find out if the intelligence we've been given is correct."
He feels the work his team do is becoming more important especially as more people struggle with debt.
"Loan sharks prey on the most vulnerable members of the community," he said.
"We know that credit is drying up for many people and unfortunately many of them feel the only option for them is to go to the illegal lenders.
"What we say to people is don't use them under any circumstances."
The government's illegal money lending teams claim to have written off more than £30 million of debt and helped more than 100,000 victims.
Newsbeat spoke to one victim of loan sharks who didn't want to be named.
They said: "The first time I went to them I only asked for about £20 or £30.
"Whatever I borrowed they asked for double back and I couldn't ever clear the debt.
"I probably ended up borrowing around £10,000 over a period of two to three years."
High interest
"When I got paid the debt collector picked me up and took me to the post office because he knew the money was there.
"I'd pay him but then I was back to square one, because I had to keep on borrowing. I was obviously really upset and stressed about it.
"One time I was in town, he spotted me and he approached me and punched me in the eye. It was terrifying."
The victim eventually tipped off his regional illegal money lending team about his problem and the group was arrested and prosecuted.
But while the work of these teams has been recognised by debt charities there are also calls for the government to do more to help people who are struggling for cash.
Damon Gibbons is from the centre for responsible credit: "It's clear that the government is making an effort to tackle loan sharks but there are wider problems.
"People are still being forced to use higher cost lenders who are legal but nevertheless charge a lot of interest.
"The government needs to look at this problem as a whole and think about ways people can get credit at a reasonable price."
Consumer minister Kevin Brennan was in Blackpool for the raid.
He said: "My message to anyone who is considering borrowing from a loan shark is don't, there are other options available.
"There's advice available through Citizens Advice and the National Debtline, both of which have received funding from the government, and we have also set up the growth fund, which has made more than £80m of affordable loans available to vulnerable people."