E20 'is bringing street to Albert Square'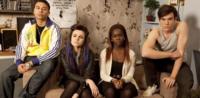 If you're a fan of EastEnders you can't have helped but notice the arrival of some new characters on screen this week. Cue party carnage, teenage sex and some screaming catfights. The new characters are all from the soap's new online offering E20. Ricky Norwood, who plays Fatboy, explains what people can expect from the series.
_______________________________________________________
So what's E20 all about?
It's about four young people that have basically been pushed together in a weird type of way. They're all running from their home lives and they've all got their reasons for doing it. They stumble upon 89b George St and end up gatecrashing it for a while and it becomes their haven.
So there's loads of young antics, there's loads of drinking and there's a bit of fighting and a bit of squabbling. There's all the things that go on around that age range. Being written by young writers as well, hopefully we're reflecting something true.
Will characters from the main show pop up in it?
Yeah, we have a couple of nice surprises. It was nice that Adam was in it - who plays Ian Beale. Masood was in it as well. We got to interact with a couple of them and it was really nice - especially for us as the actors coming in working with the legends of the show.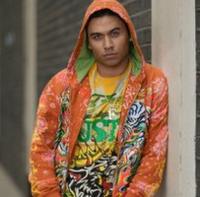 So why is your character called Fatboy?
Ah, the infamous question! Well, his real name is Arthur Chubb. So, when he was in school and the register was being read out and it got to his name it would be 'Chubb!' and all the kids in school would start taking the mickey out of it.
What he did was create something even more ridiculous to take away from that. He took the mickey out of himself and took the power away from those that were taking the mickey out of him.
So what was it like your first day on the set of EastEnders?
It was crazy because EastEnders has always been on in my house. So you kind of know it backwards… it's a bit surreal, it's a bit dreamlike. It's crazy walking past the Vic, and the launderette, and walking under the bridge.
Does it look different?
Absolutely. The first thing you notice is that it's a lot smaller. As a fan of the show it kind of spoilt the magic. There's the inside studio shots and there are the outside shots and knowing which ones are which, it kind of broke it for me as a fan. As an actor it's been brilliant to work on.
Who were you most intimidated by meeting?
I suppose Adam [Woodyatt], on the first day. It was like, 'Oh my God, I'm going into a scene with Ian Beale, one of the legends, longest serving members of EastEnders.'
It was the same for me and Rudolph Walker, who plays Patrick Trueman. He's been on the telly for I don't know how long. My nan and my mum and everybody's been a fan of his for a long time.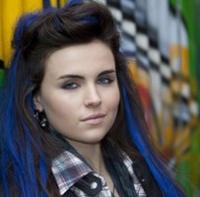 Is it a bit like Hollyoaks for EastEnders?
We've given it an EastEnders style but at the same time you're going to notice a lot of different things. For E20 we had four cameras that were hand-held all the time so it's very pacey and it moves very quickly. It's got an edgy feel about it. Normally on EastEnders the cameras are on tripods so it's a lot smoother shot.
We're giving it its own flavour. My character itself is trying to bring the street to Albert Square. I'm born and bred in east London, so the slang that I adapt and I use for the character of Fatboy is slang that I've known all my life, that I've grown up with. So I try and bring it and from a true place.
Is it trying to bring in a new audience?
Yeah, definitely. The show is a universal show, and I feel that all we're doing is bringing a new flavour. We're just bringing a bit of a young flavour to it - something to cater for them, something to give back to those that are watching it.
If you go through EastEnders there's a character somewhere that you can relate to or that you've seen in your walk of life. So that's what we're trying to bring - a new sense of the youth and a new sense of what east London is right now.
E20 starts on 8 January at 8.30pm online on the BBC website