Burke brands chart battle 'weird'
17 December 2009

From the section

Music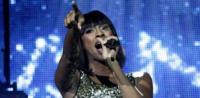 Last year's X Factor winner and Christmas number one artist Alexandra Burke has pledged her support to Joe McElderry and labelled the campaign to get Rage Against The Machine to the top of the charts as "weird".
She said: "I think it's more weird that it's a big campaign with a Sony versus Sony artist. That's what I find strange."
The 21-year-old, topped the UK singles chart last Christmas with her cover of Leonard Cohen's Halleluyah.
As of midnight December 16, Rage Against The Machine's Killing In The Name leads Joe McElderry's cover of Miley Cyrus's The Climb in the charts by a margin of 36,681 copies.
Joe supporter
Burke also pledged her support to the 18-year-old from South Shields' bid for Christmas number one by saying: "I think Joe McElderry should be number 1 because it'll be his first number 1 bless him. I support him dearly.
"It's all about what the public want Christmas number one to be - nobody else can dictate that, it's what they want to buy. End of."
However, Burke did admit that she would have been upset were the campaign mounted against her last year.
"I would have been upset for sure but what people fail to remember is that the X Factor isn't forcing someone to be number one. This is not what the show is about, it's not about forcing people to buy into the single."
Simon Cowell has already labelled the campaign begun on Facebook as "cynical " and "stupid" with Rage Against The Machine guitarist Tom Morello describing it as "wonderful dose of anarchy."
The winner of the race for Christmas number one will be announced on Sunday 20 December.