Pupils to get domestic abuse lessons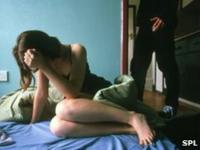 Teenagers in England are to be given lessons to raise awareness about domestic violence and how to avoid violent relationships.
According to the latest figures, one in three teenage girls has been sexually abused by their boyfriend and a quarter have been beaten up.
Under the plans, lessons will start in 2011 in an attempt to change attitudes towards violence against women.
Starting young
Approximately a million women are the victims of abuse at least once a year.
Home Office minister Alan Campbell says it's a key priority for the government and thinks it's important to start young.
He said: "Talking about it in schools to young children and trying to challenge some of the attitudes before they become entrenched [is vital], breaking what can become a vicious cycle."
The kind of lessons five-year-olds get will be very different to what a 15-year-old might learn.
Younger children will be taught about respecting each other and teenagers will focus on how to deal with relationships turning nasty.
But critics say this takes their attention away from their lessons and it should be the parents' job.
Recent figures from the NSPCC show that a fifth of teenagers say they've been slapped, punched or beaten in a relationship.
Samantha (not her real name) was 14 when she was attacked.
She said: "He told me straight, if he can't have me no one can. I confronted him in the playground.
"He didn't like what I was saying, he ended up punching my face and we got into a big fight. I had a black eye."
The lessons are part of a wider campaign with £13 million being spent to help support victims of sexual and domestic violence.
That will include TV ads and special hotlines. But the charity Refuge says the need for services and the money to pay for them is urgent.