Jedward 'not that gutted' after X Factor axe
John and Edward are the latest act to be booted off The X Factor. The pair were voted out by the judges after ending up in the bottom two. They were controversially saved by Simon Cowell two weeks ago when his decision to go to the public vote meant Lucie going home instead of the twins. Jedward now say they'll concentrate on the show's tour next year and that they "just wanted to make an impact".
_________________________________________________________
How does it feel to be out of The X Factor?
John: We're cool about the whole thing. We've got a lot of things in our future. We've got to focus on the tour now. It's not that we're gutted.
We're honoured to have been given the opportunity that we're on this huge TV show and that we're part of something so big. It's so great that we got to work with such great people.
Edward: They turned a rock into a diamond. Without them the show wouldn't be what it is.
What do you make of being called Jedward?
John: I think the cool thing about being called Jedward is that it's much easier to chant. You can't just go, 'John & Edward'. It doesn't sound right.
It's cool that our fans came up with that name for us. It's cool that they used their own creativity to come up with a name for us and that's cool with us if they want to call us Jedward.
Do you guys think you can sing?
John: We wouldn't say we're like these big singers.
Edward: We try our best to put on a performance. That's what current artists are doing. It's about being contemporary and being a recording artist and going out there and putting on a performance.
People, when they come to a concert, they want to see a show. They're not going to spend £80 on a ticket just to see an act stand there. We just want to go all out, do everything.
What did you think about the controversy surrounding Lucie's exit from the show?
John: We were in the bottom two. The acts aren't against each other. It all comes down to the public vote, which Simon brought to the public vote.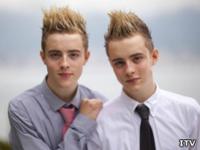 They voted for us. We didn't go out on that stage and act defeated. We wanted to go out there and show the people why they voted for us in the first place.
We couldn't come out the next week and act defeated. So we did Ice Ice Baby mixed with Under Pressure because we were under so much pressure because we were in the bottom two last week.
Edward: I think the main thing that people need to realise is that it was the public at the end of the day who put us through.
Without them we wouldn't have got to do Ice Ice Baby or Wham week. It was really great. At the end of the day it all comes down to them.
John: They supported us but they still support us.
What about your hair. When did you decide to do your hair like it is and how long did it take to grow?
John: Our hair, it'll always be us. We never knew it was going to be such a big deal.
Sometimes we vary it. Sometimes I used to have my hair short. Sometimes you have it long. For the last two years we've had our hair like this.
I think the thing about our hair is, even our style, it'll always change and always be different. I think style comes down to how you're feeling at that moment.
Maybe in two years we could be different but we'll always be the same people. It's about reinventing yourself.
Edward: Everything we've done on the show every week has been a defined moment. Every single performance is totally different, the outfit, the whole performance.
It wasn't like a blur. We just wanted to make an impact and that's what we did and we're really happy about the whole experience.