Playstation offers 'download and keep' movies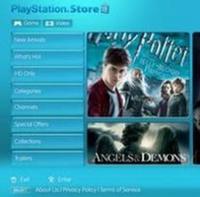 The battle of the consoles isn't just being fought over games.
Xbox 360 and PS3 are slugging it out to be seen as the ultimate multimedia machine.
The latest salvo comes from Sony, with the launch of its Video Store for Playstation.
At launch users can choose from more than 800 films to rent or, for the first time in the UK, download and keep on their console.
Titles are available in standard and high definition, starting at £2.49 for rentals and £6.49 for purchases.
Sony paved the way for movie storage on the PS3 by increasing the size of its internal hard drive.
Early models had a maximum capacity of 60GB. The most recent version, the PS3 slim, is available with up to 250GB.
Playstation is playing catch up with its major rival, the Xbox 360, which has been offering video rentals through Xbox live for three years.
'Next step'
Microsoft recently extended its film offering, adding Zune Movies.
Users in the United States also have access to the Netflix video rental service.
So far, none of the online services on Xbox 360 allow users to buy and own their film choice.
Editor of Total Film magazine, Andy Lowe, said: "A lot of people now want movies to come to them, hence the success of postal services like LOVEFiLM. This is the next step in that.
"Consoles are the ultimate format for getting everything into the living room.
"I don't think downloads will replace buying completely, because there is still something nice about having the physical product. But it will replace rental in a couple of years time."
As well as films, both companies are competing to deliver television programmes to the home.
PS3 gives users access to the BBC iPlayer and, through an add-on device, freeview TV.
Xbox 360 has a tie up with Sky, offering live streaming of some programmes.
Nintendo's recently launched BBC iPlayer for its Wii. However, without a hard disk or high definition graphics, the console is not seen as a major contender in the home cinema battle.