You Me At Six ready 'aggressive' LP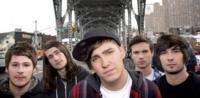 You Me At Six have revealed details about their forthcoming "aggressive" second album.
Hold Me Down, the follow-up to the Surrey rocker's 2008 debut Take Off Your Colours, will be released on 11 January.
The album was recorded during April 2009 at a studio in Reading, Berkshire.
Speaking about the release lead singer Josh Franceschi said: "We wrote songs for Hold Me Down that we'd have never been able to write for Take Off Your Colours. The songs are more accomplished, far more accomplished."
Rewritten lyrics
Having recently returned from a two-month US tour Franceschi says he rewrote many of the lyrics on the new album.
"I'd literally just come out of a long term relationship," he says.
"I didn't feel they were appropriate and I didn't want to sing them. I rewrote a lot of the lyrics. Rather than just being the hopeless romantic kind of thing it's now more widespread than that."
First taste of the album comes in the form of new track The Consequence, a song which the band are making available as a free download from their website on 25 November.
"It's a song that really sums up the album. I had a chat with my mum before I went into do recording. I wanted to write it down in a blow by blow account.
"I wasn't sure if I was in a good position, if I could record it and if I was up for being in a band and all that stuff," he explains.
Expanding on the title of the new album Franceschi added: "It sounds like quite a negative title but it's not supposed to come across that way. Between Take Off Your Colours and Hold Me Down there were lots of hurdles you have to overcome being in a band.
"Either personal or via being the problem child I was being in band. It's the idea of not letting things bring me down, the phrase hold me down… nothing's managed to stop us."
Special guests
The album also features guest appearances from Aled Phillips from Kids In Glass Houses and The Blackout's Sean Smith, friends the band have made via constant touring.
Josh is keen to talk about another track set for inclusion - Contagious Chemistry.
"The title suggests it is maybe about a boy and girl type thing but it's more about the love/hate relationship that I have with some people I meet in the music industry.
"It's really amazing how fickle some of these people are. Some of the lyrics are quite aggressive but I always have a tendency to be quite mean when it comes to articulating things."
You Me At Six join Paramore on their nationwide UK arena tour in December before embarking on their own headline tour in March 2010.