How will bank changes affect you?
3 November 2009

From the section

Politics
Big changes are on the way for Britain's banks. The Government has announced that some will have to be broken up into smaller parts to meet European rules. They say it's good news for taxpayers but there's a catch because the banks need even more of our money.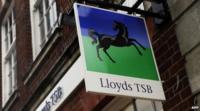 So what's happening with the banks?
There are two parts to this story. Firstly the part that's going to cost you, probably around £30 billion.
Most of the money is going to RBS but Lloyds will get some too. They're selling off extra shares and the government's got to use our money to buy into that.
Why are we bailing out these two big banks again?
The Government expects the economy to start growing again by the end of the year. But for now times are still tight and the banks need this money to see them through.
In return, top staff at Lloyds and TSB will give up bonuses with Lord Myners, the City Minister, saying "no cash bonuses will be paid to anybody earning more than £39,000".
Notice the use of the word "cash". That doesn't mean they can't be given shares.
That's part one of today's big banking changes. What about part two?
In a few years things could look a bit different on the high street. At the moment we've got just a few big banks like RBS.
That's against European rules which say there has to be competition. So they're going to be broken up.
Chancellor Alistair Darling explained: "What you're seeing here is about 10% of the total banking capacity being freed up over the next three to four years and I hope we will get new entrants coming in."
The idea is that a variety of banks means they need to fight for our business by offering good deals on accounts and mortgages.
It's too early to say exactly how this will end up. It's all still a few years away.