Bailey Rae: 'It's nice to be back'
29 October 2009

From the section

Music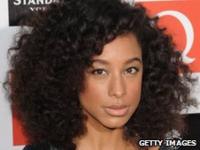 After more than a year out of the music business, British soul singer Corinne Bailey Rae is back to promote her second album.
The 30-year-old's husband, Jason, died last March after taking an accidental overdose of methadone and alcohol.
The singer was halfway through writing the follow-up to her self titled debut and thinks it's now time to get back to what she loves doing most.
"I love music," she said. "I've been involved in music the whole time that I've been away from the spotlight.
"I've been playing and singing and writing. Music is my love, it's not just my career. It's what I do to express myself.
"I knew I would be back playing and I didn't know to what extent, so it's nice to be back in this bustle. It's not too bad."
Different sound
Corinne Bailey Rae made her public comeback at this week's Q Awards in London, where she handed out the breakthrough artist prize to Mr Hudson.
The singer says it's been a hard year for her and that she couldn't write about all her experiences following the death of her husband, who she described as "utterly irreplaceable".
"I think writing, it's not just like writing a diary, is it? There's an element of skill involved," she said.
"There's an element of artifice involved. It's art, isn't it? It's been enjoyable to write.
"I couldn't have not done it because I've always made up songs, so it's just been a natural extension of who I am really."
The singer, behind songs like Put Your Records On and Like A Star, releases her second album in February.
Called The Sea, Corinne Bailey Rae says it has a different sound to her first record.
She said: "It's a really exciting, heavy record with orchestras and the piano and the autoharp and all these songs I've written on my own.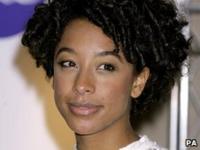 "It feels like a much more personal record. It's really dynamic.
"I wanted to be back out promoting it. I want to give it the best chance of people hearing it."
The new album has been produced by Steve Brown and Steve Chrisanthou, the same pair who made her debut in 2006.
Bailey Rae says coming up with the title, The Sea, ended up being the easiest job of the whole album.
She said: "I was really surprised when I put all my notebooks together and realised that there was all this water and there was this powerful, elemental force going through all the songs.
"It became really obvious. It wasn't difficult to find a title. It seemed there was this overarching theme."
Corinne Bailey Rae will be performing live for 1Xtra on 30 October as part of the BBC's celebration of 75 Years at the Maida Vale studios. Corinne's new album is out on 2 February 2010.