Hollyoaks stars film extreme show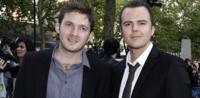 They used to be known as Hollyoaks' Max and OB, but since leaving the soap actors Matt Littler and Darren Jeffries have been taking on some andrenalin-packed adventures.
The pair have just spent three months travelling the world filming Red Bull Rivals, an extreme sports show where they take on a different challenge each week.
They even roped in some celebrity mates to get in on the action and say they picked up some inevitable injuries.
_________________________________________________________
What have you been doing since Hollyoaks?
Darren: We left about a year-and-a-half ago and we've been so lucky, we've worked pretty much since leaving. We did bits and bobs for 4Music, a little bit of the V Festival, had our own show on T4. Now we've come quite nicely to our own series - Red Bull Rivals.
It sounds like you two are going to be doing some quite extreme sports?
Matt: We've been basically spending the last few weeks trying to kill ourselves. We've done extreme motorbike riding, cliff diving in Athens, free running in Sweden. We've just finished filming the final in Cape Town, which was downhill mountain biking.
How did you get on with the free running (also known as parkour)?
Darren: I don't think we realised how tough it was until we started the training. You watch these guys do it and think, 'Yeah I can do that. I can bounce off a wall'. But it is really tough and I really struggled with that. I got twisted ankles, buckled knees, scratches, bruises. It was painful.
Matt: My favourite one was the downhill urban mountain biking. I just assumed it would be riding downhill on a bike. But about an hour into the training on the first day both me and Darren were in A&E. It's that tough, really hard, really fast. You have to keep your head on it. One little lapse in concentration and that's it, you're down the hill without your bike.
You also made a home-made flying machine as well?
Darren: Yeah, that was our fourth challenge in France and it was a holiday compared to the rest. We basically built a flying machine and you fly it off a pier into the sea and they judge on who flies the furthest and also what little bit of performance you do before you jump off the end.
Matt: Needless to say neither of them flew very far. In fact mine attacked me before I left the end of the pier.
Darren: And mine landed on top of me when I hit the sea.
What was the worst injury you guys picked up?
Matt: I broke my wrist in episode one and I think Darren had a very near fatal motorcycle accident.
Darren: That's in the first episode as well. It's dramatic. At the same time it's real good fun too. We get celebrity guests to come out with us. We had Kara Tointon (Dawn from EastEnders), Basshunter - he was great, we had Loui Batley (Sarah Barnes) - a good friend of ours from Hollyoaks. We had Louisa Lytton as well.
What did the celebrities have to do?
Darren: They don't actually do the challenges. What happens is me and Matt take them out on a date and try to woo them. Whoever's date the guest celebrity prefers they get to decide who goes first or second in the actual event. It's quite a tactical advantage.
Are you still in contact with any of your Hollyoaks friends?
Matt: Yeah of course. We were there for 10 years but to be honest it's a lot of new cast now. A lot of them I don't actually know. But definitely old school cast and all the crew. They're big mates.
Ali Bastian's doing well in Strictly Come Dancing. Have you guys been watching her?
Darren: We haven't because we've been out of the country filming the series. We've got no idea what's going on but we were chatting to Louisa Lytton last week and she said how well Ali is doing. We're really pleased for her.
Transmission schedule:
10 October - Red Bull Romaniacs (stunt motorcycling) in Transylvania (with special guest Kara Tointon)
17 October - Red Bull Art of Motion (Free Running) in Sweden (with special guest BassHunter)
24 October - Red Bull Cliff Diving in Switzerland (with special guest Chipmunk)
31 October - Red Bull Flugtag (Building Flying Machines) in Marseille (with special guest Master Shortie)
14 November - Urban Assault mountain biking in Cape Town (with special guest Carley Stenson)
21 November - The Best of Red Bull Rivals
Red Bull Rivals is on at 1300 BST on 10 October on Channel 4.