Problem gambling 'is on the rise'
8 October 2009

From the section

Health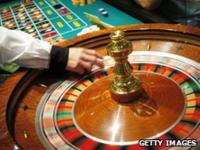 The number of people looking for help with betting problems is up by more than 20% in a year, according to a charity dealing with gambling addicts.
Nine thousand more people contacted Gamcare last year than in 2007.
Adrian Scarf from the charity says more than a third of those who get in touch are aged between 18 to 25 and many are students.
He said: "They gamble away their grants. They start stealing from friends or borrowing from friends.
"They steal from the family. They get into so much difficulty that in the end they're losing so much they might have to give up their study."
The charity has concerns students are increasingly getting hooked to online gambing to try to pay off their loans.
The Gambling Commission, the industry watchdog, says there are up to 300,000 problem gamblers are in Britain.
Have Your Say: Have you been affected by problem gambling?
Celebrity status
GamCare says its advisers are now dealing with around 100 callers who are in trouble and looking for help and advice every day.
It claims more than 300 people are in treatment around the country getting individual counselling.
Adrian Scarf thinks gambling is too easily available.
"I think poker is a very good example of the attractions of gambling. It's marketed very well. It has a celebrity status and is easily available online.
"There are so many enticements to gamble. You can gamble on almost anything you want from the internet, through to fruit machines, through to horse race betting.
"Young people just enjoy the buzz of gambling."
GamCare says calls answered on its helpline, NetLine, are up 300% (from 1,407 to 4,729) and the number of counselling sessions are up by 30% on the previous year to 12,500.
The charity says that's because more young people are getting in contact by phone.
"Over a period of time they might have fun and they might win," warned Adrian Scarf.
"But the story that comes out is, 'It ceases to be fun, I'm actually not good at this because the house always wins and basically I've got in so much difficulty, I don't know if I can continue my studies'."
Newsbeat listeners have been getting in touch with their stories.
Ann says she lost £70,000 gambling but has now stopped. She said: "For years my life will be bleak, having to work 12 hours a day to pay it off and I'll be broke for years and years."
Mark in Chichester says he had a problem with gambling while at university.
"I finished university three years ago and I'm still paying off the debts I ran up then now, three years on," he said. "My gambling problem is over now but it's set me back so much."
But Dan in Preston says gambling provides some light relief. He said: "Me and my two friends go to the bookies every week on a Thursday when we get paid. It's only a problem when we lose."