Spice Girls 'in talks' over new idea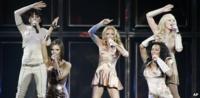 Mel B says all five Spice Girls are planning a new project that could see them work together again.
Talking on the red carpet at the Pride of Britain Awards with bandmate Emma Bunton the singer remained tight-lipped about the details.
She said: "Us five are in talks about doing something and until we all decide I can't tell you. Sorry."
However, she denied speculation that Victoria Beckham would not be involved with the next Spice project.
Getting creative
"Us five do everything together. I don't know where they get this stuff from," she said.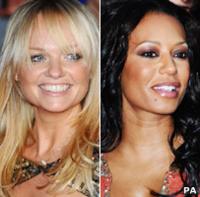 Emma Bunton added: "I think the thing is, it's like, when us girls get together, Spice Girls, we're creative.
"We always think about ideas and projects, so not just about getting together again but other projects as well.
"There'll always be something in the pipeline, I'm sure."
However, the girls refused to put a time frame on their plans, partly thanks to busy family lives.
Emma said: "Us girls get together and it's natter, natter, natter.
"Then we have to go off and deal with children and other lives. But it's always nice to get together and think up ideas. That's all it is really."
Solo work
There were rumours that the five-piece would reunite for a special concert to kick off the 2010 World Cup in South Africa but Bunton has denied this is the case.
The girls are also working on individual projects, with Mel C having recently announced she's making her theatre debut in the West End production of Blood Brothers on 26 October.
Emma has tried her hand at radio, while Mel B has been spending time in LA working on several TV shows.
Meanwhile Victoria Beckham manages several fashion and perfume franchises.
The Spice Girls rounded off a successful 47-date world tour in Canada in February 2008.