Muse respond to Lily's file-sharing rant
17 September 2009

From the section

Music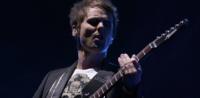 Muse lead singer Matt Bellamy has responded to comments made by Lily Allen earlier this week [15 September] surrounding illegal file-sharing.
In an email to the singer, Bellamy explains that he feels "file-sharing is the norm" and that ISPs [internet service providers] should be taxed for allowing users the broadband space to download files illegally.
The Teignmouth singer also suggests that the pair meet government Business Secretary Lord Mandelson "as he is on this issue at the moment".
In a blog Lily Allen had suggested that illegal file-sharing was a "disaster" and was having a "dangerous effect" on British music.
Further detail
In his email to Allen published on her MySpace blog, Bellamy explains that "file-sharing is now the norm. This cannot be changed without an attack on perceived civil liberties which will never go down well".
He goes on to explain: "The problem is that the ISPs making the extreme profits (due to millions of broadband subscriptions) are not being taxed by the copyright owners correctly and this is a legislation issue."
"Radio stations and TV stations etc have to pay the copyright owners (both recording and publishing) a fee for using material they do not own.
"ISPs should have to pay in the same way with a collection agency like PRS doing the monitoring and calculations based on encoded (but freely downloaded) data.
"Broadband makes the internet essentially the new broadcaster. This is the point which is being missed."
He also suggests that people who download more should be taxed more saying "usage should also be priced accordingly".
Muse's fifth studio album The Resistance was released this week.