The Cribs start their 'new phase'
15 September 2009

From the section

Music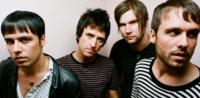 He's not been the dad-on-the-touchline figure some thought he would be.
Ironically, since joining The Cribs officially in August 2008, Johnny Marr has breathed new life in the group.
It's what drummer Ross Jarman is calling "their new phase".
And Marr, perched on a picnic bench eating salad, looks like he's firmly settled in with the three Jarman brothers. There's no tippy-toeing around the ex-Smiths guitarist.
Northern bond
Together the foursome have fashioned new album Ignore The Ignorant, the band's fourth, but first with Marr co-writing the songs.
"There's nothing I could teach them," says Marr when asked if he feels paternal over the rest of the gang. "They're not kids. That's good for me, because I couldn't be in a band where there was a big gulf in experience.
"It wouldn't be good for anyone. It wouldn't be appropriate. I think people expect there to be cultural differences when there aren't any."
Despite the age gap between the members, Marr puts the quartet's bond down to the fact "we're from the same part of the world".
Ryan, Gary and Ross are from Wakefield, Yorkshire whilst Marr is from Ardwick, Manchester.
"Everyone is pretty plain speaking," says Marr. "I'm asked quite a lot about being in a band with brothers and it does have a bearing but the inference is that there are fights and scraps and squabbles.
"It isn't like that but there's actually a real level of understanding. I want to get on with business.
"I'm with people talking in a language I understand and on terms I understand and do things for the reasons I understand. We're on the same page."
Marr spent a short stint playing with Portland band Modest Mouse before officially becomnig a Crib just over a year ago.
"A group is a group, I know how to be in a group," he says. "I've absolutely no interest in promoting myself - far from it, I think it stops it being a proper band then."
"The Cribs have got a second guitar player and it's my job for that to be as tremendous as I possibly can."
Fourth effort
Ignore The Ignorant, the follow up to 2007's The New Fellas, was recorded in 10 days in California with producer Nick Launay - the first studio album Marr has contributed towards.
Some things haven't changed though.
Rightly tagged as a band who have worked hard for their success, the Cribs still drive their own van [Ross has the keys today] and lug their own gear. Johnny, included. It's about being frugal and self-contained.
"We say no to any excess," says Ross. "We feel like there's not enough bands around at the moment who do that."
Their methods have paid off as Ignore The Ignorant is now a top 10 album since its release on 8 September.
"As a band we've never been the kind of band that have looked towards the charts," says singer Ryan. "We've never really cared what's going on there and never used it as this huge barometer of success.
"It feels quite exciting, quite vindicating that things can be done in a different way. You don't have to jump through the hoops that a lot of other bands appear to be willing to jump through."
The Cribs it seems, even with a legend on board, are still not surrendering their beliefs.