Snow Patrol fans 'warned' over tour
25 August 2009

From the section

Music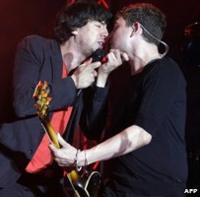 Snow Patrol guitarist Nathan Connolly has said some people might be surprised by their new direction.
They are planning to mix things up a bit on their up-coming tour which will see new treatments to some old classics.
Nathan said: "We want to change it up. We're going to rearrange all the songs and try them in a different way.
"There's strings, brass, maybe a small choir. We're going to try and do things differently. We want to try and mess with the songs and see.
"If people are wanting to come and hear the hits the way they are I guess they need to be warned."
The 28-year-old says the band have written some new material and aren't ready to stop performing yet.
Speaking of their unreleased new tracks, Nathan told Newsbeat: "They're all very different from each other. They will always be rooted in strong melody and Gary [Lightbody]'s lyrics.
"They sound like Snow Patrol but presented slightly differently. I think I'd rather let people make up their own mind.
"I think some people might be surprised. Some people might just think it's normal. I think it's different."
But despite the new sound Nathan says the band will always remain true to their roots.
He said: "We have Gary and his voice, no matter what kind of musical direction we'll take, we'll always make it sound like Snow Patrol."
The band were moved up to the headline slot at V Festival in Chelmsford last weekend when Oasis pulled out due to illness.
The tour begins in Brighton on 18 November and ends in Belfast on 8 December.