Lockerbie release: US backlash grows
24 August 2009

From the section

Politics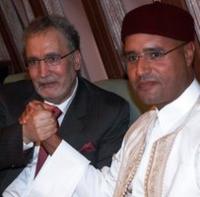 The decision by the Scottish government to release the only man convicted of the Lockerbie bombing - Abdelbaset Ali al-Megrahi - has caused tensions to mount between the US and Scotland.
By and large Americans like the Brits - and perhaps especially the Scots.
It's unusual to be on the rough end of their tongues, but since the row over the release of the Lockerbie bomber that's exactly what's happened.
Over the weekend two blistering official attacks - one by the head of the FBI and the other by the Chairman of the Joint Chiefs of Staff - left no doubt of Washington's anger at Megrahi's release.
Megrahi was convicted of killing 270 people in the 1988 airline bombing of a Pan Am flight over Lockerbie, Scotland.
Most of those who died were American.
Many people here believe a life sentence should mean life and terminal prostrate cancer is no excuse for an early release.
Libya 'deal'?
The SNP leadership in Edinburgh argue the decision was based on Scottish law and was not made for political reasons. Talks of a deal with Libya and London are dismissed as not credible.
Political observers say it would be impossible for a Labour government in London to work with rival scottish nationalists in Scotland to free the bomber.
The subtleties of Scottish - or UK - politics don't wash in the US though.
Several US senators have pitched in, with Democrat Ben Cardin saying: "The terrorist shows no compassion and to give him a compassionate release was wrong.
Website boycott
"I think it's very serious and I think there should be consequences."
Those consequences could mean a boycott of Britain, if one website gets its way.
A campaign urges "Americans to protest by boycotting the United Kingdom and Scotland in full".
So what do ordinary Americans think? Newsbeat has been hearing from some of them in bars and clubs over the past few days.
Neil lives on the upper west side in New York. He didn't want to give his surname.
He said: "I think it's outrageous. Do they let all their criminals out on compassionate leave? And what would they do if he was Scottish?"
Priya Patel from New Jersey isn't impressed either. She said: "Sick. It's just sick."