Tautou: 'I loved playing Chanel'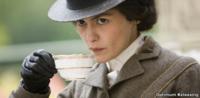 Audrey Tautou, the French actress who starred in Amélie and The Da Vinci Code, plays Coco Chanel in her new film, Coco Before Chanel. It tells the story of how she overcame a difficult upbringing to start her own fashion business. She says talk of an Oscar for her role in the film is "funny" and that she's not very fashion savvy herself.
_______________________________________________________
Do you feel like you've been influenced by Coco Chanel after playing her?
No, I don't think I have been influenced by her. But I feel more enriched now I know her better and I can see what's behind her.
Do you think people will be surprised after finding more out about Coco Chanel's life?
Yeah, I think people will be surprised by her determination, where she comes from and how she managed to succeed so well. I think it's really a message of hope for everybody who wants to become somebody else or to do something in this life, even if you think everything is lost.
Did you know the story of her life before being approached to do this film?
No. In fact I had just an image of her. Of course I knew her style and her creations but I knew she was a bright brain and very rude and authoritarian. I had no idea that she didn't want to become a stylist at the beginning, that she wanted to become a singer and an actress. I had no idea about how epic her life was and how men were important in her destiny.
What was your knowledge of the fashion industry like before you did this film?
No. I'm kind of bad in that aspect, that department of my life. Of course I like clothes because it's a way to express your personality and your fantasy. But I think Chanel was saying that to be elegant you have to be different. I agree with that. I think it's important to show who you are through your clothes. Apart from that I'm not very good with brands. I'm not a specialist.
Was it a new experience being dressed then and have the fittings?
The costumes in this movie are very, very important because they show how at the beginning Chanel was very different. The quality of her style was something she didn't learn. I don't know, she had it from the start. I don't know where she got that but it made her completely unique.
She used to wear her boyfriend's clothes, which was totally different at the time from everyone else, wasn't it?
Of course, because she was a woman it was totally different. She wanted to have the same freedom as men. She wanted to be independent, not to depend on a man. It was something very modern and very different. That's the reason why she started to refuse to wear a corset and to be a woman, not an accessory. She wanted to highlight her personality. She chose something more simple to reveal her character than her body.
Was the film fun to make or was it more serious?
It was very exciting because it was very enriching to discover the society of the moment. Everything was very precise and very clever. But at this moment of her life she was in a kind of psychological chaos. She's full of doubts and weaknesses and in another way, determination. So it was the balance between those thousands of feelings that was heavy to carry.
People are already tipping you for an Oscar for this film. What do you think about that?
That's so funny. The movie hasn't been released anywhere before except in France. I'm more concerned about the audience and whether they'll like this movie. I think it's very clever and I really like it.
Coco Before Chanel opens in the UK on Friday 31 July