Metallica 'excited' about festival
31 July 2009

From the section

Music
Metallica will follow in the footsteps of rock legends like Led Zeppelin, Deep Purple and Pink Floyd this weekend when they headline the Sonisphere Festival at Knebworth House in Hertfordshire. The band top a bill including Linkin Park, Limp Bizkit and Bullet For My Valentine. Lead singer James Hetfield says he's excited by the prospect of playing Knebworth and that fans can expect a set filled with crowd pleasers.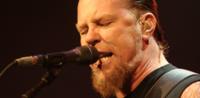 _________________________________________________________
How's the current tour going?
We've only been out for a little over a year. We've got about one more year to go. It's the hump right here with one month over in Europe. We're obviously doing a lot of summer festivals, then heading back to the States. We've got South America to go. We've got more Europe. We've got Japan, some Asian things. We've got Australia and we'll see what happens after that.
You're playing Knebworth as part of the Sonisphere Festival this weekend. Some famous Brits have played there like Oasis and Robbie Williams. What are your feelings about playing there?
The same stage as Oasis? Woo! No. I tend to think about Knebworth as Deep Purple and Led Zeppelin. Lars would be probably lump them [Oasis] in with the same group. It's one festival we haven't done yet and we're on this planet to play as many places as we can. That is next on the list. Metallica is grateful to be at the point where we can headline a festival like that. We're excited about it.
What can Metallica fans expect? Will it be the same kind of show as your indoor concerts?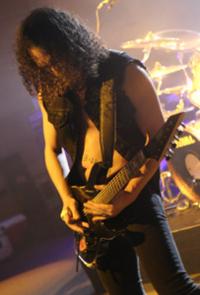 No, no. Definitely not. When you're outdoors there's a whole different vibe. It really does depend. We have done a few shows in London already, so we'll take a look at the set list, see what things we've done nearby. We haven't done a whole lot. We did a couple of O2s, we did Newcastle, we did Sheffield and I think Manchester.
We'll take a look at those set lists and try and throw in different things just so it's somewhat mixed up. You're not doing all the obscure songs that you normally would at an indoor show. You are doing some but not all of them. You do want to keep the crowd bouncing out there and keep them happy with songs that they kind of know but throw a few in for the hardcore fans.
The show is the second of August and my birthday is on the third, so something might happen. It's interesting, my guitar roadie Shane shares the same exact birthday as me, so Leos attract each other I guess.
Are British fans different to fans around the world or is there no difference?
There are differences and there are similarities in pretty much any fan on the planet. When I talk about fans, I notice the Metallica fans more than others because I am in that band. So what I say is most of the time, the Metallica fan is, I would say, the most dedicated of any fan because they have a lot that's thrown at them but they're able to handle it all.
And when they do go to a show, they're giving 110% just like we are. It's another level of fan. And depending on the culture where you are on the planet they're probably exerting themselves as much as they ever had even if it's standing and clapping in Japan, where they're very polite, or somewhere in Mexico City, where they're like rabid and tearing your hair out.
What's it like touring around Europe with lots of other metal bands? Do you get together after gigs or do you not see each other?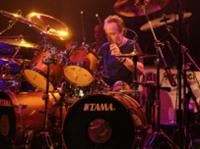 We do try to do as much as possible. Logistically things don't work out all the time, where we're not in the same hotel or we're flying to another gig and they're busing it, so we don't see them as often. But before the shows we're hanging, on days off we're hanging as much as possible.
Basically what we like to do is to get bands out with us that we vibe with, that we have a good time with. That's pretty important, to have a good spirit out there, backstage and on the stage, obviously bringing bands out there that the fans like but also ones that deliver the goods.
They're not just up there getting pelted and booed at by Metallica fans. They're trying hard, they're trying really, really hard to win some people over and we love seeing that.
Do you write new material on the road or do you do it after you've finished touring?
It's both. It's like a waterfall. Sometimes it's happening, sometimes it's not. When we're on the road, sometimes the ideas are flowing, you can't really turn it off or turn it on. It's constantly flowing but at different levels. And most of it has to do with me.
If I'm in a good mood I'm going to write something really great. Or if I'm in a bad mood I'm going to write something really great. Somewhere in the middle, I'll wait until one of those other emotions happens. Or if I get a really good guitar sound in the tuning room, that will spur on a great riff too.