Arctic LP
One of the Arctic Monkeys' producers says the Sheffield band's new album won't be liked by everyone.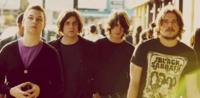 James Ford, one of the two producers of the forthcoming third album Humbug, has said it will split fans.
He made the comments live on a webcast on their official website.
"Some will love it and some maybe won't," he said when describing the band's new "slow and moody" direction.
Humbug is released on 23 August and was produced by Ford and Queens Of The Stone Age's Josh Homme in America.
The Sheffield band headline this year's Reading and Leeds Festivals.
New direction
With new single Crying Lightning hinting at a more melodic sound Ford said Humbug might invite differing reactions from fans.
"It'll definitely surprise people, especially people who are familiar with things like [I Bet That You Would Look Good On The] Dancefloor… and stuff like that, [they] might be quite taken aback.
"They're progressing and moving forward trying to change, push themselves and push their audience which I think is rare in a lot of bands today.
"They've just got more relaxed with themselves - they're comfortable doing what they're doing.
"They play to their strengths, they know what their strengths are more now," he added.
Alex Turner and co will play new tracks from album when they play live on a webcast on their official website on 30 July at 9pm.