BBC Newsbeat Front Page
Top Stories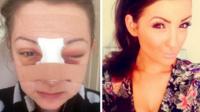 An abused teenager, who has become a beauty queen, says more people need to speak out to help young people suffering domestic violence.
Este from the pop/rock band Haim says that after she "nearly died" at Glastonbury, her health is now her number one priority.
Cheryl Cole says she would have preferred to keep her new marriage out of the spotlight, but she's glad her fans finally know.
Sinister Six
Columbia Pictures announces at San Diego's Comic-Con that the Spider-Man spin-off film will be released in 2016.
You Might Have Missed
Speaking to Fearne Cotton ahead of their Live Lounge Neon Jungle said they were aiming for world domination.
An 11-year-old Canadian girl becomes one of the first to change her sex designation on her birth certificate after new laws make it simpler.
Documentary filmmaker Michael Moore divorces Kathleen Glynn after 22-year marriage.
Other Top Stories
The personal assistant of former X Factor judge Tulisa Contostavlos apologises for calling Simon Cowell gay.
Singer and rapper Example and his wife Erin announce on Twitter that they're expecting their first child.
Ahead of the Commonwealth Games marathon in Glasgow, English runner Steve Way explains his transformation from smoker and curry lover to elite athlete.
Latest From BBC News
At least 15 people have been killed and more than 200 injured when a UN-run school used as a shelter in Gaza came under fire, Gazan health officials say.
Latest From BBC Sport
Multiple streams, text and radio as Ross Murdoch beats fellow Scot Michael Jamieson and judo sisters Kimberley and Louise Renicks win gold for Scotland.
Latest Programme
The news including Jayden Parkinson's killer, her ex-boyfriend, is found guilty of murder.
24 July 2014