BBC Newsbeat Front Page
Top Stories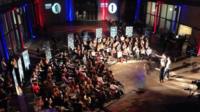 Read about some of the key issues talked about in Radio 1's Big Conversation with the highlights plus reaction.
17 September 2014

From the section

Politics
On Tuesday night Newsbeat hosted the last live debate before the Scottish referendum on independence.
15 September 2014

From the section

Politics
The social network says it is "slowly" introducing advertising on Instagram to UK users.
Katy Perry and Ariana Grande are up for most EMAs
You Might Have Missed
You knew about their fourth album, then there was Fireproof and now they've named the lead single from their new album.
Players of the open world block building game have their say about Microsoft buying Mojang.
Jarrod Allen, the man behind the Tindafella Tinder account, has gone on a date with one of the women he mocked.
Other Top Stories
From BBC Radio 1
Yes that's right – on Monday 10th November 2014, Grimmy, Fearne, Scott, Greg and more will be heading to one secondary school to take over for the day!
This September, after a huge summer of live events, BBC Radio 1 brings you Even More Music Month!
Latest From BBC News
Both sides in the Scottish referendum campaign hold rallies as they make their final efforts to win over undecided voters.
Latest Programme
The day's news including reaction to Newsbeat's special debate on the Scottish referendum.
17 September 2014