BBC Newsbeat Front Page
Top Stories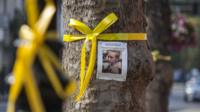 As a body is found in the search for missing schoolgirl Alice Gross, our reporter Tamsyn Kent explains what it's like living in Hanwell right now.
Here's our run down of the little things that may make a big difference.
Ahead of its release in 2016, bosses reveal the cast of Angry Birds on the game as fans played it.
Microsoft said it "wouldn't be right" to name its new operating system Windows 9.
As Italian Francesco Totti breaks the Champions League record for oldest goal scorer here's some other old pros.
Everyone loves a bit of free wi-fi, but do you actually know what you're getting yourself into when you use it?
BBC Radio 1 & 1Xtra
Yes that's right – on Monday 10 November 2014, Grimmy, Fearne, Scott, Greg and more will be heading to one secondary school to take over for the day.
This September, after a huge summer of live events, BBC Radio 1 brings you Even More Music Month.
BBC News & Sport
David Cameron says a future Conservative government would cut taxes for thirty million people as he delivers his party conference speech.
Live text and radio commentary as Arsenal host Galatasaray and Liverpool visit Basel in the Champions League group stages.
Latest Programme
The day's news including the latest on missing 14-year-old Alice Gross as a body is found.
1 October 2014