BBC Newsbeat Front Page
Top Stories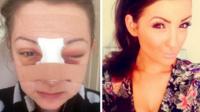 An abused teenager, who has become a beauty queen, says more people need to speak out to help young people suffering domestic violence.
Este from the pop/rock band Haim says that after she "nearly died" at Glastonbury, her health is now her number one priority.
The personal assistant of former X Factor judge Tulisa Contostavlos apologises for calling Simon Cowell gay.
Sinister Six
Columbia Pictures announces at San Diego's Comic-Con that the Spider-Man spin-off film will be released in 2016.
You Might Have Missed
Which four sports at the Commonwealth Games didn't feature in the London 2012 Olympics?
MTV has confirmed that production will begin for the second series of its reality series Ex on the Beach.
Shawn Mendes, 15, was spotted by Island Records after posting six second videos of himself singing.
Other Top Stories
Singer and rapper Example and his wife Erin have announced on Twitter they're expecting their first child.
Ahead of the Commonwealth Games marathon in Glasgow, English runner Steve Way explains his transformation from smoker and curry lover to elite athlete.
Emmy-nominated TV show Fargo is set to return for a second season but with a new cast.
Latest From BBC News
Algeria's national airline, Air Algerie, says it has lost contact with one of its planes flying from Burkina Faso, with 116 people on board.
Latest From BBC Sport
Choose from up to 15 live streams, text & radio coverage as England's Jodie Stimpson wins the first gold medal of the Commonwealth Games in the triathlon.
Latest Programme
The day's news including an execution by lethal injection in Arizona that took two hours.
24 July 2014