BBC Newsbeat Front Page
Top Stories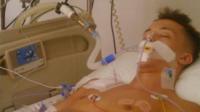 A young couple recall the moment one of them was left fighting for their life on holiday in Turkey.
Mathew Knowles links a fight in a lift after this year's Gala Ball to "Jedi mind tricks" to help boost ticket sales.
29 August 2014

From the section

Music
After Jesse Helt accepted the singer's video of the year award it emerged there was a warrant out for his arrest.
29 August 2014

From the section

Music
White Wedding
James Costello, one of those injured in last year's Boston Marathon bombing, marries the nurse who helped him recover in hospital.
You Might Have Missed
Friends of 21-year-old Jack Davies, who died while backpacking in Thailand, describe him as "an absolute legend".
Newsbeat takes a look at the facts behind the Ebola outbreak without any of the hype.
Other Top Stories
Latest From BBC News
Ukraine's PM says he will ask parliament to put the country on a course for Nato membership, as the alliance discusses the crisis in eastern Ukraine.
Latest From BBC Sport
Latest transfers, eight Premier League managers face the media, Europa League draw (12:00 BST) and best buys debate.
Latest Programme
The day's news including a Conservative MP has quit to join anti-Euro party UKIP.
28 August 2014