BBC Newsbeat Front Page
Top Stories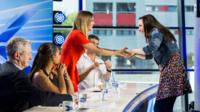 As one contestant returns to The X Factor, many more weird and wonderful people turn up to audition.
A young couple recall the moment one of them was left fighting for their life on holiday in Turkey.
Spending a day on the beach where treasure hunters are searching for £10,000 worth of buried gold.
White Wedding
James Costello, one of those injured in last year's Boston Marathon bombing, marries the nurse who helped him recover in hospital.
You Might Have Missed
Friends of 21-year-old Jack Davies, who died while backpacking in Thailand, describe him as "an absolute legend".
Newsbeat takes a look at the facts behind the Ebola outbreak without any of the hype.
Other Top Stories
Latest From BBC News
David Cameron and Nick Clegg are to meet for talks to try to reach agreement on new measures to tackle the threat posed by Islamist extremists.
Latest From BBC Sport
Chelsea striker Fernando Torres will move to AC Milan on a two-year loan deal, subject to agreeing personal terms with the Serie A side.
Latest Programme
The latest news from around the UK and around the world.
29 August 2014