BBC Newsbeat Front Page
Top Stories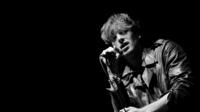 Paolo Nutini tells Newsbeat he knows "where his heart is" on independence issue but still wants questions answered.
A teenager has given up his studies after his portraits of One Direction went viral.
Justin Bieber mocks Orlando Bloom on Instagram after the pair were filmed coming to blows in Ibiza.
Anger Management
Michael Sorrentino, who is also known as The Situation, has been ordered by a court to go to anger management, over assault charges.
You Might Have Missed
Singer beats Shakira and Rihanna with almost half a billion views for single.
The supermarket chain is now playing signed and unsigned music artists throughout its UK stores.
Sandra Smiley from Medecins Sans Frontieres recently came back from the African countries affected by the Ebola outbreak.
Other Top Stories
Latest From BBC News
Israel is "determined" to destroy all militant tunnels from Gaza "with or without a ceasefire", Prime Minister Benjamin Netanyahu says.
Latest From BBC Sport
Live video, radio and text coverage of 12 sports on day eight of the 2014 Commonwealth Games in Glasgow.
Latest Programme
The day's news including an emergency UK government meeting over the deadly ebola virus.
30 July 2014