BBC Newsbeat Front Page
Top Stories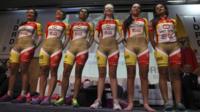 A Colombian women's cycling team says it will not stop wearing its flesh-coloured kit despite criticism from the sport's governing body.
Equalizer actor Denzel Washington gives advice on getting into the film business on 1Xtra's Breakfast Show.
TV producers decide to move Doctor Who to a later time slot to make way for Strictly Come Dancing.
Celebrating Success
With Bristol City capturing the imagination with theirs, we've picked out a few cracking goal celebrations.
You Might Have Missed
The partner of a man police want to speak to about missing schoolgirl Alice Gross speaks exclusively to Newsbeat.
Read about some of the key issues talked about in Radio 1's Big Conversation with the highlights plus reaction.
Katy Perry and Ariana Grande are up for the most awards at this year's ceremony in Glasgow, this November.
Other Top Stories
From BBC Radio 1
Yes that's right – on Monday 10 November 2014, Grimmy, Fearne, Scott, Greg and more will be heading to one secondary school to take over for the day.
This September, after a huge summer of live events, BBC Radio 1 brings you Even More Music Month.
Latest From BBC News
Millions of people in Scotland are heading to the polls to vote on whether the country should stay in the UK or become an independent nation.
Latest Programme
The news including police name a suspect in the case of missing schoolgirl Alice Gross.
18 September 2014