Middle East
Top Stories
Palmyra temple 'still standing'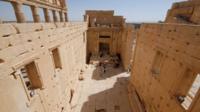 Palmyra's ancient Temple of Bel is still standing despite a bid by the Islamic State group to blow it up, Syria's antiquities chief says.
Strike on Yemen factory kills 31
An air strike by the Saudi-led coalition backing pro-government forces in Yemen kills 31 people in the northern province of Hajjah.
Related content
Egypt row over Facebook muezzin call
A muezzin in Egypt faces disciplinary action for changing the traditional call to prayer to "praying is better than spending time on Facebook".
Features
Better life
More Iranians speak out for disability rights
Voting spat
Debate rages on Twitter over Saudi women's vote