Middle East
Top Stories
Iran talks to continue past deadline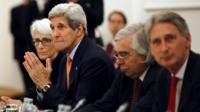 Talks between world powers and Iran on a comprehensive nuclear agreement will continue past Tuesday's deadline, the EU's foreign policy chief says.
US 'intensifying' anti-IS campaign
The US-led coalition fighting Islamic State is "intensifying" its campaign against the group's base in northern Syria, President Barack Obama says.
Related content
Many killed in Yemen air strike
Saudi-led coalition bombers strike a suburb of the southern Yemen port city of Aden, killing at least 30 people, witnesses there say.
Related content
Features
Holy symbol
The special water flown in for the royal christening
Brutal attack
Egypt looks for answers after Sinai clashes with IS