Middle East
Top Stories
Gulf allies 'back US over Iran deal'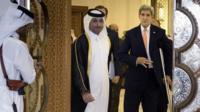 US allies in the Gulf back the nuclear deal with Iran, as the US promises them better intelligence-sharing and faster arms transfers.
Related content
Hadi loyalists storm Yemen air base
Pro-government forces in Yemen launch a major offensive to oust Houthi rebels from a strategic air base north of the port of Aden, military sources say.
Related content
Syrian plane crashes in bomb raids
A Syrian warplane crashes in a marketplace in the north-western town of Ariha amid bombing raids, killing at least 27 people, activists say.
Related content
Features
Waging war
How many people have gone to Syria to join Islamic State?
Lured online
'How IS tried to radicalise me in... and how I resisted'
30 July 2015

From the section

UK