Middle East
Top Stories
Iraq will take back Ramadi 'in days'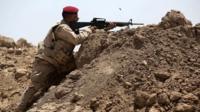 Iraq's Prime Minister Haider al-Abadi says that the city of Ramadi could be taken back from Islamic State militants "in days".
Clashes rage in south Yemen cities
Fierce clashes are reported in southern Yemen, as officials say UN-sponsored peace talks planned for later this week have been postponed.
Related content
Tunisian soldier shoots seven dead
A Tunisian soldier is shot dead after he kills seven people at a military barracks in Tunis, according to the country's defence ministry.
25 May 2015

From the section

Africa
Features
Logic of loss
Threat to Palmyra v human suffering: not a zero-sum game