Middle East
Top Stories
Israeli-Palestinian violence spreads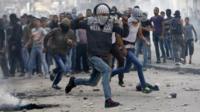 Fresh violence between Palestinians and Israelis leaves six Palestinians dead in Gaza, reports say, and citizens of both communities hurt in stabbings.
Related content
India anger at Saudi arm chopping
India says it has complained to Saudi Arabia after an employer allegedly chopped off an Indian maid's arm when she tried to escape.
9 October 2015

From the section

India
Features
Allied action
How Iran stands to gain from Russia's intervention in Syria
Ready to leave
Why Syrians are looking beyond Turkey for a new life
9 October 2015

From the section

Europe
Facebook furore
Is this social media cartoon of a six-year-old Syrian girl racist?
Elsewhere on the BBC
Quick quiz
Who wrote it: Bob Dylan or Dylan Thomas?