Middle East
Top Stories
Red Cross staff shot dead in Yemen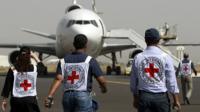 The International Committee of the Red Cross says two of its Yemeni workers have been shot dead in northern Yemen by an unidentified assailant.
Related content
Deadly bombing in Syria's Latakia
At least 10 people have been killed in a bomb attack in the Syrian city of Latakia, a stronghold of President Bashar al-Assad, state media report.
Related content
Features
Firm allies
How far is Russia prepared to bolster Assad?
2 September 2015

From the section

Europe
Open arms
Sympathy for those fleeing Syria conflict spreads online
Elsewhere on the BBC
Oh sugar!
Can you make great cakes without it?