Middle East
Top Stories
Iran nuclear talks reach deadline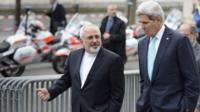 Iran's foreign minister returns to Vienna for talks with world powers on the day of a deadline for an agreement on its nuclear programme.
IS 'attacks Syria's Tal Abyad'
Islamic State (IS) militants have attacked the northern Syrian town of Tal Abyad, which they lost to Kurdish fighters two weeks ago, activists say.
'IS car-bomb' strikes Yemen funeral
The Islamic State (IS) militant group say its Yemeni affiliate carried out a car-bombing at a funeral attended by Shia Houthi rebels in Sanaa, with many casualties.
Features
One year on
Is the Islamic State 'caliphate' here to stay?