Latin America & Caribbean
Top Stories
Brazil unveils Rio Olympics torch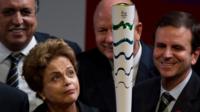 Brazilian President Dilma Rousseff unveils the torch to be used at the 2016 Olympics and says the Rio Games will bring "honour and pride".
Colombia has first legal euthanasia
A Colombian man with terminal cancer becomes the first person in the country to die legally by euthanasia, in a move opposed by the Church.
Features
Road forward
Can ancient Inca building techniques save modern cities?