Latin America & Caribbean
Top Stories
Argentina 'Dirty War' baby found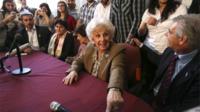 Campaigners in Argentina find another child abducted from left-wing political prisoners during military rule between 1976 and 1983.
Related content
Colombia 'to reunite split families'
The Colombian foreign minister says Venezuelan relatives of Colombians deported from Venezuela amidst a border row will be offered Colombian citizenship.
Brazil WhatsApp mayor on the run
A mayor in Brazil is on the run after police accused her of taking funds from the school system and running the town remotely through WhatsApp.
Features
Winning formula
Does Usain Bolt move his legs faster than other sprinters?
29 August 2015

From the section

Magazine
'Missing link'
South American fossil throws new light on evolution of lizards