Guernsey
Top Stories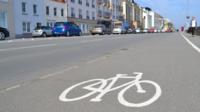 Fuel duty will not be increased under plans to generate millions of pounds of funding needed to roll out Guernsey's transport strategy.
A ban which will prevent Guernsey fishermen from using EU and UK waters is described as "regrettable" by the UK government.
More top stories
Up to £3m of extra cash will be spent on health services in Guernsey due to urgent changes highlighted by a number of reviews.
Serious changes need to be made in the way mental health is treated in Guernsey, according to the founder of a support group.
Automatic residency rights will be applied to all children aged under eight from local families when a new population law comes into effect.
Politicians have questioned whether it was necessary to involve police in the investigation of four deaths at a hospital in Alderney.
A passenger ferry is towed to Alderney after losing power while travelling to Guernsey.
A "common understanding" is reached in negotiations over Guernsey's public sector pensions, says the deputy chief minister.
An informal pedestrian crossing is set to close as trial changes to Guernsey's St Peter Port seafront are reversed.
Latest stories
Guernsey FC must make this season's Isthmian League play-offs as a "minimum", according to striker Ross Allen.
Guernsey FC's record goalscorer Ross Allen says the Island Games has been the perfect preparation for their league campaign.