Guernsey
Top Stories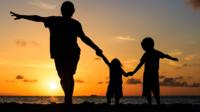 Automatic residency rights will be applied to all children aged under eight from local families when a new population law comes into effect.
Politicians have questioned whether it was necessary to involve police in the investigation of four deaths at a hospital in Alderney.
More top stories
A passenger ferry is towed to Alderney after losing power while travelling to Guernsey.
A "common understanding" is reached in negotiations over Guernsey's public sector pensions, says the deputy chief minister.
An informal pedestrian crossing is set to close as trial changes to Guernsey's St Peter Port seafront are reversed.
Wind restrictions put on a ferry after it crashed in Guernsey's St Peter Port Harbour on its second day carrying passengers are lifted.
The interests of telecom consumers in Guernsey and Jersey should be taken into account before any merger between JT and Airtel-Vodafone, say regulators.
Latest stories
Guernsey Rugby Club confirm New Zealander Blair Campbell as captain for a sixth season.
Cobo Tigers win Guernsey's Evening League to complete a seasonal clean sweep of three trophies.