LA Dodgers must pay damages to 'beaten fan' Bryan Stow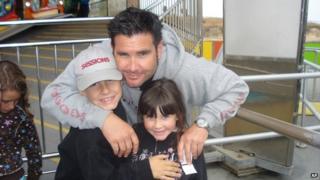 A San Francisco Giants fan left permanently disabled after a beating by two Los Angeles Dodgers fans has won a lawsuit against the US baseball club.
The Dodgers must pay nearly $15m (£8.7m) to Bryan Stow after the March 2011 attack outside the stadium.
Lawyers argued the Dodgers failed to provide adequate security at the game.
The two suspects, Louie Sanchez and Marvin Norwood, received eight and four years respectively for the attack which left Mr Stow, 45, brain-damaged.
"He did get some money to help the future and that's what we wanted - we wanted help,'' Mr Stow's father, David, told US media.
"He's not going to be 100%, maybe for a long time, maybe never," he added. "What he gets is going to help him through now, and that's what he needs."
Culture of violence
A jury in Los Angeles divided responsibility among the Dodgers and Sanchez and Norwood, awarding Mr Stow $18m in total damages.
Dodgers former owner Frank McCourt was absolved of responsibility by the jury.
A lawyer for the Dodgers had argued the club was not responsible for the attack, but that Mr Stow had been drunk at the time of the incident.
"There were three parties responsible - Sanchez, Norwood and, unfortunately, Stow himself. There were things Mr. Stow did that put these things in action," lawyer Dana Fox said.
But a lawyer for Mr Stow said high alcohol sales at the game promoted a culture of violence which led to the attack on Mr Stow.
At the time, the incident drew national attention to fan violence at US sporting events.
Witnesses reported seeing Mr Stow assaulted from behind and his head strike the ground. While down, Sanchez kicked Mr Stow in the head multiple times.
In February, Sanchez admitted to kicking and punching Mr Stow, while Norwood pleaded guilty to assault likely to produce great bodily injury.
Both men had their sentences discounted for time already served.