Oregon school gunman took assault weapon from home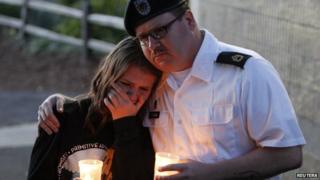 A teenager who shot dead a 14-year-old student at a school in the US state of Oregon was armed with an assault weapon he brought from home, police have said.
Jared Michael Padgett, 15, killed Emilio Hoffman and wounded a teacher before turning the gun on himself.
Police arrived after shots were reported as classes started on Tuesday morning at Reynolds High School.
No link has been found between Padgett and the victim, and a motive has yet to be determined in the shooting.
"We do know that the shooter died of a self-inflicted gunshot wound," Troutdale police Chief Scott Anderson said.
According to authorities, Padgett entered the building at Reynolds High School with an assault rifle, a handgun, several magazines of ammunition and a large knife concealed in a guitar case.
"The shooter obtained the weapons from his family home," Mr Anderson added. "The weapons had been secured, but he defeated the security measures."
The suspect was wearing a camouflage helmet and ammo vest when he entered the school's gymnasium and shot Hoffman in the boys' locker room.
Athletics instructor Todd Rispler was also grazed by a bullet but was able to initiate a school lockdown, which police say may have saved lives.
'Soul-searching' needed
Police officers, including two stationed at the school, confronted Padgett in a hallway. After an exchange of gunfire the teenager fled to a school bathroom, where he was later found dead of a gunshot wound.
During the evacuation another person was found to be armed with a gun and taken into custody. Mr Anderson said that was unrelated to the shooting.
The shooting follows a spate of recent attacks at or near school campuses. And a recent tally by gun control advocacy group Everytown for Gun Safety counted 74 school shootings since the December 2012 massacre of 20 children in Newtown, Connecticut.
On Tuesday, President Barack Obama said the US was due for "soul-searching" over the high level of gun violence plaguing the nation and lamented Congress' unwillingness to pass new gun restrictions.
"We kill each other in these... mass shootings at rates that are exponentially higher than any place else," he said at the White House.
"This is becoming the norm. And we take it for granted in ways that, as a parent, are terrifying to me. Right now, it's not even possible to get even the mildest restrictions through Congress... We should be ashamed of that."