Sterling agrees to Clippers sale and drops lawsuit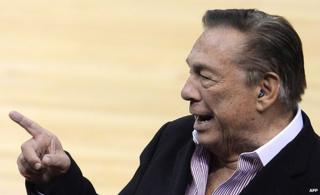 Los Angeles Clippers owner Donald Sterling has agreed to sell the team for $2bn (£1.2bn) and drop his lawsuit against the league, his lawyer says.
Maxwell Blecher told reporters his client had "made an agreement with the NBA to resolve all their differences".
Former Microsoft chief executive Steve Ballmer is set to buy the basketball team in a record sale.
Mr Sterling was fined $2.5m and banned for life from the league after racist comments he made became public.
The National Basketball Association (NBA) announced the ban and fine soon after an audio recording of Mr Sterling emerged in the US media in April, in which he was heard asking a woman not to associate in public with black people nor to bring them to games.
In a subsequent interview with CNN, he said he apologised for a "terrible mistake" and insisted he had been "baited" into making the remarks.
But last week he sued the NBA in federal court, alleging it had violated his constitutional rights by relying on information from an "illegal" recording.
He also sued for damages for the forceful termination of his ownership, but Mr Blecher said on Wednesday this lawsuit was now dismissed.
The other team owners in the league will vote on this proposed sale in mid-July, Mr Sterling's legal team said.
If they approve the sale, it will be a record sum for a team that cost Donald Sterling about $12m in 1981.
Last week, Mr Ballmer said in a statement he was honoured to have his name put forward to the NBA for approval.
"I love basketball. And I intend to do everything in my power to ensure that the Clippers continue to win - and win big - in Los Angeles," he said.