Roswell school shooting: 12-year-old pleads 'no contest'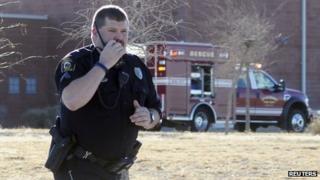 A 12-year-old New Mexico boy who shot two classmates with a shotgun in a school gymnasium in January will not contest the charges against him, his lawyers have told a court.
Entering the "no contest" plea, the lawyers said the Roswell boy accepted responsibility for the attack.
They raised questions about his mental state but said the victims would be spared the "further trauma" of a trial.
A boy, 12, and girl, 13, were severely injured in the attack.
"The question of what happened on Jan 14, 2014, at Berrendo Middle School was never in dispute," lawyers Bob Gorence and Jason Bowles wrote in a statement following the plea, according to the Albuquerque Journal.
"The questions relating to why and what was [the boy's] mental status are still being analysed by medical professionals. The plea today was important so that the victims are not put through further trauma, for [him] to accept responsibility, and to continue the healing process for all."
The boy was charged with three counts of aggravated battery with a deadly weapon and one count of carrying a firearm on school premises.
At a sentencing hearing scheduled for 2 July, the boy could face imprisonment until he turns 21.
The boy said nothing at the hearing on Friday, but apologised through the lawyers.
Nathaniel Tavarez, 12, and Kendal Sanders, 13, were injured in the morning attack. Police said the boy had taken the sawn-off shotgun from his home.
Nathaniel's eyesight was damaged, and Kendal still carries shotgun pellets in her body. Both spent significant time in hospital.