Afghan conflict: US records rare zero-fatality month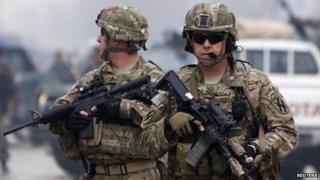 There were no US military deaths in Afghanistan in March, the first zero-fatality month for US forces there since January 2007, the Pentagon says.
The US pull-out from Afghanistan has led to a decline in casualties.
About 33,000 US troops are currently based in the country, down from a peak of 100,000 in 2011, the Pentagon says.
The international combat mission is due to end in December. The fate of a proposed new mission to train Afghans from January is yet to be decided.
The US has had troops in Afghanistan since 2001, when it toppled the Taliban.
Its forces went into the country following the 9/11 attacks. With Afghan and Western allies, they quickly overthrew the Taliban but have faced insurgent attacks since then.
Pentagon statistics show there were 132 US deaths in the country in 2013, compared with 313 the year before and 415 in 2011.
President Hamid Karzai - once a key US ally - has refused to sign a security agreement with the US until a peace process with the Taliban is under way.
The proposed deal offers legal protection for US troops and defines a post-2014 Nato training and anti-insurgent mission.
The US insists the agreement must be in place before it commits to leaving troops behind beyond 2014.