Second win for Iditarod dog sled racer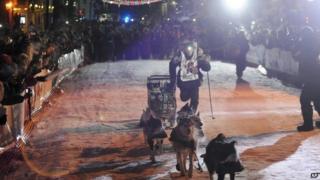 Dallas Seavey has won the Iditarod, the 1,000 mile (1,600km) annual sled dog race across the US state of Alaska, for the second time.
He did not know he had won until after he crossed the finish line in Nome, after the original front-runner was blown off course by a sudden storm.
Mr Seavey finished the race in eight days, 13 hours, four minutes and 19 seconds, breaking a 2011 record.
The Iditarod winner receives $50,000 (£30,000) and a new lorry.
Mr Seavey thought he was racing his father, Mitch, who won the Iditarod last year, for third.
"I wasn't in a big hurry. I was racing for third, and I was telling my dogs, 'We've done our work here, you guys have done a good job, let's go home,'" he said.
But second-place musher Aliy Zirkle was behind him after waiting out the storm at the last checkpoint, Safety, 22 miles from the finish line.
Ms Zirkle finished two minutes behind Mr Seavey.