US child porn teacher Eric Toth sentenced to 25 years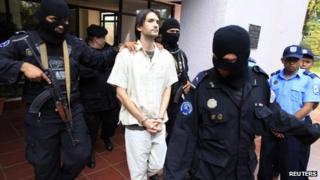 A former Washington DC primary school teacher has been sentenced to 25 years in prison for child pornography.
Eric Toth was arrested in Nicaragua in April 2013 after an appearance on the FBI's Ten Most Wanted fugitives list.
He later admitted using a hidden camera disguised as an air freshener to record children using a school toilet.
The 32-year-old pleaded guilty in December to charges including producing child pornography and identity theft.
He was sentenced to less than the 30 years sought by the prosecution in a federal court in Washington on Tuesday.
Assumed name
"I know I've hurt people, a lot of people," Toth told the judge at Tuesday's sentencing.
He will spend a lifetime on supervised release after he leaves prison.
Toth had been a teacher at the exclusive Beauvoir school in Washington DC for about three years.
He fled the area in 2008 after child pornography images were discovered on a camera he had used while a teacher at the private primary school.
A computer file containing further images was later discovered at the school after Toth had fled.
His car was found at a Minnesota airport with a suicide note inside.
He later lived under an assumed name in Arizona and Texas.
The FBI added Toth to its most wanted list in 2012 after the death of Osama Bin Laden left an opening.
In its notice at the time, the FBI described Toth as "a computer expert" with "above-average knowledge regarding computers, the use of the internet, and security awareness".