Three sought for University of Mississippi statue noose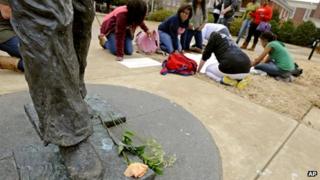 University of Mississippi officials aim to question three white students suspected of draping a noose over a statue celebrating desegregation.
The noose was placed on a statue of James Meredith, an African-American student who braved segregationist mobs in 1962, police say.
Lawyers for the three male 19-year-old freshmen have not yet allowed their questioning.
The incident on Sunday has prompted student-led protests.
"The University Police Department had gathered enough evidence by late Wednesday to bring charges through the student judicial process against two of the students, and both state and federal authorities were working in close co-ordination to determine whether criminal charges were applicable," the university said in a statement.
'Racial slurs'
The three students' lawyers have asked campus police to serve arrest warrants before allowing their clients to be questioned, university chief of police Calvin Sellers told US media.
The three students failed to appear at a pre-arranged meeting on Thursday, Mr Sellers added.
The university chief of police said a construction worker had seen two of the men wrapping the statue in an old Georgia state flag bearing the Confederate logo, and heard them shout racial slurs.
The university's Alpha Chapter fraternity voted to expel all three men and turn over their identities to investigators.
The university's alumni association offered a $25,000 (£15,046) reward for leads following the incident, which occurred during Black History Month.
The university campus was the scene of race riots in 1962, when hundreds of protesters decried the admission of Mr Meredith, the school's first black student.
Two men died and dozens were wounded.
The university was the scene of another race row in 2012, when a group of students yelled racial slurs during a protest following President Barack Obama's re-election.