Utah newlywed dies after base jump parachute failure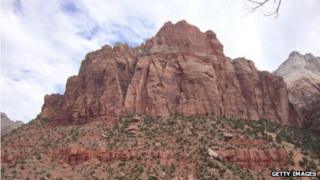 A newlywed in the US state of Utah has died after her parachute failed to open in a mountain jump.
Amber Bellows, 28, fell nearly 2,000ft (609m) from Mount Kinesava in Zion National Park on Saturday.
She had been hiking in the area with her husband, Clayton Butler, two weeks after they married.
Ms Bellows was experienced in base jumping, which involves leaping with a parachute from elevated platforms such as buildings and rock formations.
The Salt Lake City native was said to have jumped first around 16:00 local time (23:00 GMT) on Saturday when her parachute did not open.
Mr Butler jumped after her but could not reach her body. It took him several hours to hike down and report the incident to park officials, US media report.
Officials reportedly searched for Ms Bellows by helicopter and located her body around 10:00 on Sunday.
Zion National Park superintendent Jim Milestone described base jumping as "dangerous" and warned it was not allowed in the area, even for those with experience.
"It is just really sad and our condolences go out to [Ms Bellows'] family and friends," he told US media.
A video of a previous base jump by the couple can be found online.