James Dutschke pleads guilty to sending ricin letters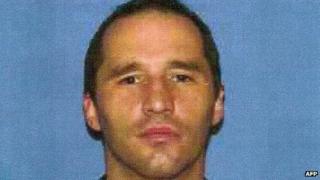 A Mississippi man has pleaded guilty to sending President Barack Obama letters laced with the poison ricin.
James Everett Dutschke, 42, admitted he also sent poisoned letters to Republican US Senator Roger Wicker and a Mississippi judge.
Dutschke is expected to be sentenced to 25 years in prison as part of a plea agreement with prosecutors.
Police initially arrested a local Elvis impersonator in the case but later determined Dutschke had framed him.
The two had known each other but had developed a rivalry and enmity.
Ricin is a naturally occurring protein found in the castor oil plant that is highly toxic. It is 6,000 times more poisonous than cyanide.
The letters to Mr Obama and Mr Wicker were intercepted. The Mississippi judge received the ricin-tainted letter, but she was not harmed.
In separate cases last year, letters containing ricin were sent to former New York Mayor Michael Bloomberg, to President Obama and to the CIA.
A Texas actress was implicated in letters sent to Mr Bloomberg and Mr Obama.