'Brain dead' Jahi McMath transferred to new facility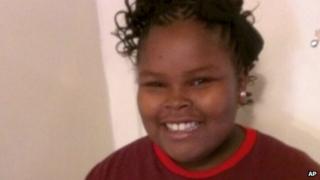 A US teenager declared brain dead after a routine operation went wrong has been transferred from a hospital that was trying to turn off her life support.
Jahi McMath, 13, who suffered cardiac arrest following a tonsillectomy, was taken to an undisclosed facility.
A court order prevented Children's Hospital & Research Center, which carried out the procedure, from later turning off her ventilator.
A critical care team transported her from the hospital on Sunday night.
Omari Seeley, Jahi's uncle, told the Associated Press on Monday she was transported by ground and that there were no complications, suggesting that Jahi may have remained in California.
Of the new undisclosed health facility, Mr Seeley said: "They have beliefs just like ours... [They have] been very welcoming."
'Religious convictions'
Doctors have determined Jahi will not recover from complications following a 9 December tonsillectomy to treat sleep disorder apnea, during which she began to bleed heavily.
She was declared brain dead three days after surgery.
Her family has maintained that she will improve, however, fighting efforts by medical professionals to remove her life support.
On 30 December, the family won an extension to the court order keeping Jahi alive, requiring the hospital to maintain her on a ventilator until 7 January.
But the Oakland, California, hospital has argued in court papers that there is no medical treatment they can give to the teenager because she is "practically and legally" dead.
An independent paediatric neurologist from Stanford University supported that view.
In late December, Jahi's family said: "We have our strong religious convictions and set of beliefs and we believe that, in this country, a parent has the right to make decisions concerning the existence of their child: not a doctor... and definitely not a doctor who runs the facility that caused the brain death in the first place."