Danvers High murder: Philip Chism pleads not guilty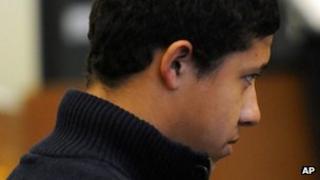 A US student accused of killing his maths teacher has pleaded not guilty to murder, rape and robbery.
Philip Chism, 14, was charged as an adult in the October killing of Colleen Ritzer, 24, at Danvers High School in the US state of Massachusetts.
Her body was found in the woods behind the school along with a note reading: "I hate you all", police said.
Prosecutors have not revealed an alleged motive killing but have said no evidence points to mental illness.
Philip remains in custody without bail after a Wednesday hearing.
After-school help
Family members of both the victim and the accused were in the courtroom on Wednesday.
In a statement, the Ritzer family said they remain devastated by her death, but are "strengthened by the tremendous outpouring of love and support we have received", including donations for a scholarship fund in her name.
The deceased maths teacher lived at home with her family and was said to be friendly towards the school's students, many of whom were not much younger than her.
Philip's mother sobbed quietly as he appeared in the courtroom. The accused, who played on the high school's soccer team, had recently moved to the Boston suburb from Clarksville, Tennessee.
Police have said that students told investigators Philip had stayed at Danvers High School after the end of the school day on the afternoon of the killing.
A student who also stayed on to receive extra help said Philip appeared to become upset when Ritzer began talking about Tennessee.
Court documents made public in November have described surveillance video said to show Philip following her into a bathroom at the school, and later walking out alone.
The video also shows Philip pulling a recycling bin through the school and outside, according to the documents.
A recycling bin was found near Ritzer's body, police have said. Prosecutors say Philip killed her with a box cutter.
Philip is charged as a juvenile on aggravated rape and armed robbery charges, but prosecutors have asked he be tried on all charges at once, arguing that the alleged robbery and rape were "part and parcel" of the murder.
Officials say her throat was cut, she was sexually assaulted with a foreign object and the accused stole her mobile phone and credit cards.