Mardell: Obamacare on a precarious political tightrope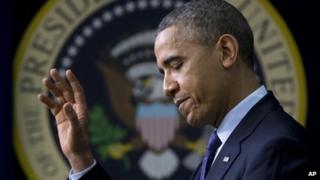 At the New Bethel Baptist Church, some are evangelical about Obamacare despite its problems.
Pastor Dexter Nutall's church is in a traditionally African-American area of Washington DC, and he says many of his parishioners' lives will be changed for the better.
He thinks the fragile website is just being used as a stick to beat President Barack Obama.
"Perception is reality, and all that some folks need is a reason, relative to our president and his initiatives," he said. "However, I think time will prove that the Affordable Care Act is something that is of great significance and benefit for those who have been underserved and overlooked for far too long."
'A big mess'
After the service, Lorraine Beard - in a crisp white nurse's uniform - hands out notices about how to enrol in a health insurance plan through Washington DC's Obamacare website.
One couple tell her they have come specifically to learn about the plan, and one of them, Medea Benjamin, takes a leaflet.
It is appropriate perhaps that the sermon was on surviving the fiery furnace. Unlike Shadrach, Meshach and Abednego, Obamacare has not emerged from the conflagration unscathed.
The fiasco of the failed website has had a big political impact. And it is still going on, as Ms Benjamin - a prominent anti-war and civil rights activist - tells me. She tried it that morning.
"It's ridiculous. You go on the website, you have to fill out a million things, then the website crashes, then you go back on and you can't find what you've already started, and then you get frustrated so you drop it," she said. "There are... thousands who would have signed up if it had been easier, but it's a big mess."
Even as the Obama administration makes cautious claims of a recovery, they have decided to delay the rollout of the Spanish language site.
Like a delicate patient, they are taking it very slowly and steadily. Equally, Republicans are prodding away, but not continuing the full-blooded attack. Both sides are watching and waiting.
Republican strategist Doug Holtz-Eakin thinks the crisis will return.
"This is bad. They need to get seven million people in and they need 40% of them to be the so-called 'young invincible', young healthy people who can subsidise the older and more expensive, so it is a big deal," he said.
"And if that doesn't work properly, in the spring you'll see a spate of stories about how again this is a colossal failure."
He tells me the failure of the website itself has undermined an important part of the Obama coalition.
"The many young voters who put him in office initially did so because they had seen the private sector manifestly fail, financial collapse, recession, and they believed that government was the solution," said Mr Holtz-Eakin, who was a senior adviser to Mr Obama's 2008 opponent, John McCain. "They've now seen the government fail. I think they will have a far more jaded view of any promises the next time around."
'Nitty gritty'
While Republicans see big political opportunities, Democrats see huge pitfalls they are determined not to fall into.
Many on the Hill are worried that association with the president's plan could hurt them next year, in the mid-term elections.
A former senior aide to Senate Majority Leader Harry Reid, Jim Manley, says, "You ask any Democrat on Capitol Hill and they are reeling from the beating they are taking. They are getting pounded on by Republicans back in their home states."
He thinks it will all come right in the end, but as someone who helped get the law through Congress he admits the failures say something about the president's style.
"He's always been someone who floated above the process, not really willing to get his hands dirty in the nitty-gritty of the legislative process," he said. "To a degree that is why we are in this situation."
Some Democrats are more critical still.
Back at New Bethel it is clear Ms Benjamin isn't just a frustrated consumer - she thinks Obama made a bad choice when he set out to reform America's healthcare system.
"The whole thing is ridiculous. We should have a single payer, Medicare for all," she said. "It works in other countries, like the British system. It would work here."
It would have perhaps been impossible. "Single payer" is seen in the US as a very left-wing, radical idea, and it would have been very hard to get it through Congress.
But it is important hers is not a lone voice - dissatisfaction with Obamacare is not only from the right, but the left too.
It was always a messy compromise, but even as the website improves, some of the mess is sticking.