Kennedy cousin Michael Skakel freed pending new trial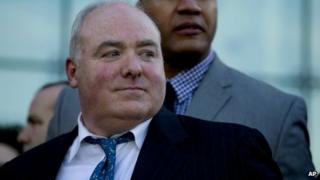 A relative by marriage of the Kennedy family convicted in the 1975 beating death of a teenage neighbour has walked free on bail as he awaits a new trial.
Michael Skakel, whose aunt Ethel was the widow of Robert Kennedy, was found guilty in 2002 of killing Martha Moxley, 15, with a golf club.
Mr Skakel, 53, has served 11 years in prison in the US state of Connecticut but has maintained his innocence.
Last month a judge found his lawyer had failed to represent him adequately.
Prosecutors are appealing the ruling granting him a new trial.
The judge ordered that Mr Skakel remain in Connecticut and wear a tracking device.
'Nothing to say'
Mr Skakel touched his hand to his chest and looked back at supporters in the courtroom as the judge set bail at $1.2m (£742,000).
"He's one of the most recognised faces of America, so he's not going anywhere," defence lawyer Hubert Santos said in arguing for Mr Skakel's release.
Mr Santos later said his client was "very happy" about the outcome.
"This is the first step in correcting a terrible wrong," the Skakel family said in a statement. "We look forward to Michael being vindicated and justice finally being served."
Outside the courthouse, Martha Moxley's brother, John, and mother, Dorthy, said they disagreed with the bail decision.
They said they still believed Mr Skakel killed Moxley and would be convicted again if a new trial went forward.
"I guess we knew that the day would come," Dorthy Moxley said. "I wasn't completely destroyed, but I wish it didn't happen."
"We have nothing to say to Michael," John Moxley said.
'Triggered rage'
Mr Skakel appealed against his 2002 conviction on the grounds that his trial lawyer was negligent in defending him, failing to locate a witness who backed up his alibi and a man who challenged a star witness' claim that Mr Skakel had confessed.
But prosecutor Susann Gill has said the state has compelling evidence of motive as well as three confessions and other incriminating statements made by Mr Skakel.
The battered body of Moxley, who lived near the Skakel family in wealthy Greenwich, Connecticut, was found on the lawn of her parents' house.
She had been bludgeoned with a golf club - later traced to a set owned by Mr Skakel's mother - and stabbed in the neck with the shaft of the club.
There were no witnesses or forensic evidence, but several people later testified that they had heard Mr Skakel confess to the crime.
Mr Skakel's cousin, Robert F Kennedy Jr, who campaigned for his release, said on Tuesday he felt "pure joy" that his cousin was expected to be freed.
"Everybody in my family knows that Michael is innocent," Mr Kennedy said. "He was in jail for over a decade for a crime he didn't commit. The only crime that he committed was having a bad lawyer."