Family of 'Whitey' Bulger's victims call him 'Satan'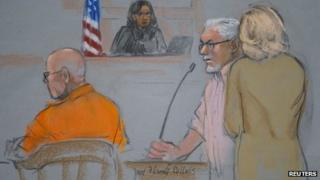 Family members of the victims of James "Whitey" Bulger have had their first - and last - chance to tell the Boston mob boss how his crimes affected them.
In a packed sentencing hearing, relatives detailed the damage, calling him a "terrorist" and "Satan".
Bulger, 84, who was convicted in August of nearly a dozen murders, sat with his back to those testifying.
Prosecutors have recommended a judge sentence him to two consecutive life terms, plus five years.
Bulger did not take his opportunity to address the judge at Wednesday's hearing, having called the proceedings a "sham". He wrote on a legal note pad during the proceedings.
'Santa Claus' call
He had argued unsuccessfully that he was promised immunity by a now-deceased prosecutor in return for Bulger's offer of protection from other mobsters.
Bulger, who is said to have been the inspiration for the gangster played by Jack Nicholson in 2006 film The Departed, fled Boston in 1994.
A retired FBI agent had tipped him off that he was about to be indicted.
Bulger was not captured until 2011, in Santa Monica, California.
During the hearing, the son of a man killed by Bulger in 1974, called him "Satan".
Sean McGonagle was 11 when his father, the member of a rival gang to Bulger's, went missing.
He said Bulger had called his house the next year and told him: "Your father won't be coming home for Christmas."
The court heard that when Mr McGonagle asked who was calling, Bulger responded "Santa Claus."
'Domestic terrorist'
"You're a domestic terrorist fuelled by greed and sickening evil," Mr McGonagle told Bulger.
Several family members accused the FBI of allowing Bulger to kill and torture while he worked as an informant on the rival New England Mafia.
David Wheeler, the son of an Oklahoma businessman killed by a hitman from Bulger's gang, called him a "government-sponsored assassin", but said the "greatest shame of all" falls on the FBI.
"They are as responsible for that murder as the defendant here sitting before you," Mr Wheeler said.
Steve Davis, whose sister, Debra, was killed in 1981, told the court: "This man has built up so much hate in my heart I'd like to strangle him myself." Bulger glanced at Mr Davis during his evidence.
"I hope Whitey dies the same way my sister did - gasping for breath as he takes his last breath," said Mr Davis.
'A little sociopath'
The jury ruled "no finding" on whether or not Bulger was responsible for her death, but Judge Denise Casper had allowed family members of all murder victims presented at his trial to speak at the hearing.
Labelling Bulger "a little sociopath", prosecutor Brian Kelly noted that the mobster had a criminal record which stretched all the way back to the presidency of Harry Truman.
Outside court, Bulger's lawyer said that even though the mob boss had refused to look at his victims' relatives, he was not "immune" to their emotion.
"He was affected by it," JW Carney said.
Bulger will be sentenced on Thursday.