Miami Dolphins' Richie Incognito suspended for 'bullying' teammate Jonathan Martin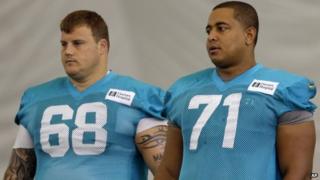 The US National Football League is investigating allegations that a Miami Dolphins player bullied a teammate.
Richie Incognito, 30, was suspended on Sunday night amid claims by 24-year-old Jonathan Martin's representatives.
Martin, 6ft 5in and 312lb (140kg), left the team last week to seek treatment for an emotional issue after reportedly being the victim of a prank.
The investigation casts a spotlight on a culture of hazing that has long been common in league locker rooms.
Incognito protested his innocence on Twitter before his suspension.
'Racial slur'
The offensive guard, who was voted the NFL's Dirtiest Player in a 2009 player poll, is a nine-year professional who is nearing the end of a $13m (£8m) contract.
Miami Dolphins head coach Joe Philbin told a news conference on Monday at the team's training facility: "The NFL is going to conduct a review of the workplace.
"It's going to be comprehensive, it's going to be objective.
"As an organisation we are going to give our full and complete co-operation with the NFL."
Philbin said a decision had been made to suspend Incognito based partly on information from representatives of Martin, an offensive tackle in his second NFL season.
The team said in a statement: "We believe in maintaining a culture of respect for one another and as a result we believe this decision is in the best interest of the organisation at this time."
According to ESPN, Incognito's alleged intimidation of Martin included leaving him a voice message with a racial slur as well as threats to kill him and assault his mother. Incognito is white; Martin is black.
The sports network also reported that Incognito had persuaded Martin to pay $15,000 towards a trip to Las Vegas that the younger man did not even go on.
Speaking of Incognito, an unidentified team source told the Miami Herald on Monday: "From a club perspective, he will never play another game here."
The nature of the alleged prank that led to Martin leaving the team last week is unclear.
But in a stadium programme sold at the Dolphins' Halloween game, Incognito was asked who was the easiest teammate to scare, and he said: "Jonathan Martin."