US boy jailed for killing neo-Nazi father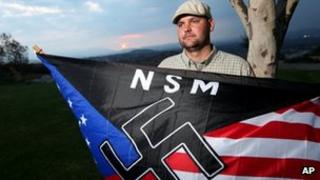 A Californian boy who was 10 years old when he shot dead his neo-Nazi father has been sentenced to between seven and 10 years in a juvenile prison.
The unnamed boy, now 13, will be eligible for parole when he is 20.
During his trial, lawyers argued he had killed his father, Jeff Hall, to stop him separating from the boy's stepmother.
The 32-year-old was shot at point-blank range as he snoozed on a sofa at home on 1 May 2011.
Defence lawyers for the boy say he grew up in an abusive environment, and had emotional and learning disabilities.
He told police he was afraid he would have to decide between living with his father or stepmother after their divorce.
Jeff Hall was the regional director for a neo-Nazi group called the National Socialist Movement.
He had led Nazi-style rallies in his hometown of Riverside, according to the Press-Enterprise newspaper.