FDA warns of pet illness linked to jerky treats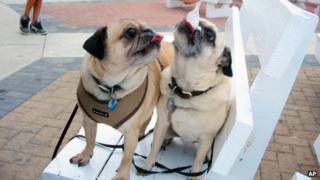 US food safety officials are appealing for help from pet owners to find the cause of an outbreak of deadly sickness in dogs who ate jerky-style treats.
The Food and Drug Administration (FDA) says 3,600 dogs and 10 cats have fallen ill after eating the treats since 2007. About 580 of those pets have died.
But the exact cause of the sickness, which can lead to kidney failure and gastrointestinal bleeding, is unclear.
Most of the jerky treats implicated have been made in China, the FDA said.
After running more than 1,200 tests, visiting pet-treat manufacturing plants in China and working with researchers, state labs and foreign governments, food safety officials are now approaching veterinarians and pet owners for more information.
"This is one of the most elusive and mysterious outbreaks we've encountered," Dr Bernadette Dunham, head of the FDA veterinary medicine centre, said in a statement.
Pets' symptoms have included reduced appetite, decreased activity, vomiting and diarrhoea within hours of eating treats sold as jerky tenders or strips made of chicken, duck, sweet potatoes or dried fruit.
"Our fervent hope as animal lovers," Dr Dunham said, "is that we will soon find the cause of, and put a stop to, these illnesses."