US Navy sexual assault reports rise 50%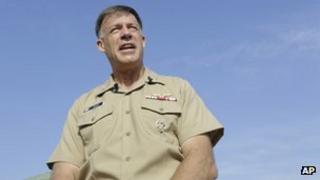 The number of sexual assaults reported to the US Navy rose dramatically over the last year, officials have said.
The Navy puts the rise down to sailors' growing comfort reporting incidents of sexual assault and to their belief that authorities will take action.
The Navy says about 1,100 assaults were reported in the year ending this month, an increase of 50% from 726 last year.
The growing rate of military sexual assault has drawn congressional and White House attention in recent months.
Across the entire US military, an estimated 26,000 service members reported sexual assault in 2012, up from 19,000 the previous year, according to a US Department of Defense report released in May.
The Navy has conducted a sexual assault education and prevention campaign in recent years to increase awareness of the issue.
As a result, the Navy anticipated a rise in the number of reported incidents this year, the Navy's top sexual assault prevention and response officer said on Wednesday.
"What we're trying to do is close that gap between anonymous surveys where sailors say that they've been victims of sexual assault in their past to those sailors that actually come forward to report," Rear Adm Sean Buck told reporters at Naval Station Norfolk in the US state of Virginia.
"The initial goal is to close that gap to where the number of reports actually equal the number of survey responses, and then ultimately to have both of those numbers decline down to zero."
The apparent rise in recent years of sexual assault in the military has provoked outrage on Capitol Hill, where the US Congress sits. The Senate convened several hearings on the issue earlier this year, questioning senior military personnel but failing to pass new legislation.
In June, Senator John McCain, a Navy combat veteran, expressed "disgust and disappointment" over reports of increasing military sexual misconduct.
And in May, President Barack Obama said such conduct was "not acceptable".
"If we find out that somebody is engaging in that stuff, they have got to be held accountable, court martialled, fired, dishonourably discharged," Mr Obama said.