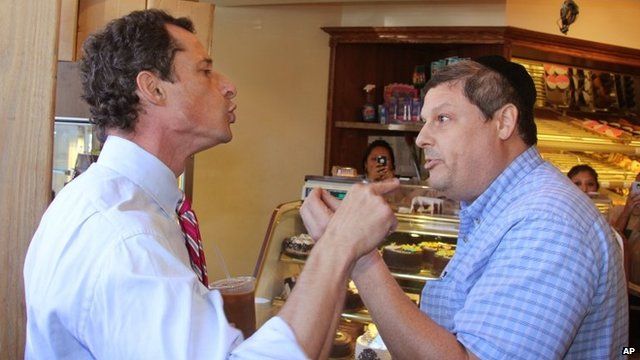 NY mayoral candidate Anthony Weiner argues with bakery heckler
5 September 2013 Last updated at 14:26 BST
New York City mayoral candidate Anthony Weiner has had several bumpy months after admitting he exchanged racy messages with three women since resigning from Congress in 2011 over a similar scandal.
On Wednesday, Mr Weiner got into an extended argument with a heckler at a bakery as the former congressman made a campaign stop on the eve of the Jewish holiday Rosh Hashanah.
As Mr Weiner left the bakery, a man identified as Shaul Kessler by the Associated Press news agency called him a "scumbag" and referred to his wife Huma Abedin by saying he had "married to an Arab".
"Takes one to know one, jackass," Mr Weiner responded with a mouth full of sweets, before the two men got into an extended shouting match.
Later, the mayoral candidate said on Twitter he had "stood up to a heckler... that's what mayors have to do sometimes".
The Democratic Party primary election, which analysts say will decide the race, is on 10 September.