Senate approves B Todd Jones to lead ATF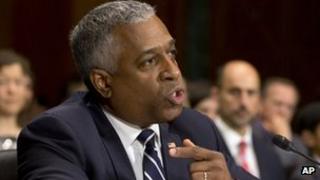 The US Senate has approved President Barack Obama's nominee to lead the Bureau of Alcohol, Tobacco, Firearms and Explosives after months of delay.
B Todd Jones was approved in a vote that saw one Republican change sides and a Democrat fly back to Washington.
President Obama praised the Senate for approving the first director to the gun law enforcement agency in seven years.
Republican gun rights advocates had blocked earlier nominees, saying the firearms bureau was too aggressive.
But the powerful National Rifle Association lobbying organisation said it was neutral on Mr Jones, easing the route to confirmation.
'Welcome and overdue'
Supporters of greater gun control backed Mr Jones's appointment, saying he would provide leadership to an agency that has been subject to congressional restraints and stagnant funding.
Mr Jones has been the part-time acting agency head since 2011, while continuing to serve as the top federal prosecutor for the state of Minnesota.
He was formally nominated by President Obama to lead the Bureau of Alcohol, Tobacco, Firearms and Explosives (ATF) after 20 children were massacred at a primary school in the US state of Connecticut in December.
After the vote, President Obama said Mr Jones was a "tough and tested law-enforcement professional" with decades of experience, adding his confirmation was both "welcome and long overdue".
"For nearly seven years, Senate Republicans had refused to confirm an ATF director - not because they thought the nominees weren't qualified, but because they put politics ahead of the agency's law enforcement mission," he said in a statement.
On Wednesday, the Senate stalled its vote for more than five hours as lawmakers waited for Heidi Heitkamp, a Democrat from North Dakota, to return to the capital from her home state and cast the 60th vote needed to defeat a Republican block and confirm Mr Jones.
Action on nominees
Earlier, Republican Senator Lisa Murkowski of Alaska was swarmed on the Senate floor by Democrats who pleaded with her to vote in favour of ending the block. She obliged, along with five other Republicans.
The vote to overcome the Republican block was followed quickly by a final confirmation vote.
In recent weeks senators have approved a series of stalled nominations after reaching a bipartisan deal to clear the backlog.
On Tuesday, the Senate filled all five seats on the National Labor Relations Board.
Two weeks earlier, the Senate confirmed Richard Cordray as the head of the recently established Consumer Financial Protection Bureau.
Democrats, who have a majority in the Senate, threatened to change the rules of the chamber to reduce the minority party's influence if Republicans continued to use procedural manoeuvres to stall votes on Obama nominees.