Two Guantanamo inmates to be transferred to Algeria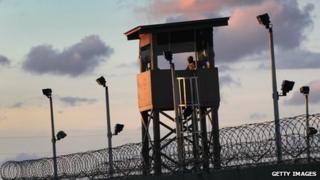 Two detainees at Guantanamo Bay will be repatriated to Algeria, the White House has said, as part of its effort to close the military prison.
The plan will be presented to Congress, where President Barack Obama hopes lawmakers will ease transfer rules, a White House spokesman said.
Mr Obama has recently renewed calls for Congress to close the prison.
Prisoners at the Cuban facility have been on a hunger strike in protest against their indefinite detention.
"The United States remains determined to close the detention facility at Guantanamo Bay," said White House press secretary Jay Carney, in a statement.
"In support of those efforts, today the Department of Defense certified to Congress its intent to repatriate an additional two detainees to Algeria.
"We continue to call on Congress to join us in supporting these efforts by lifting the current restrictions that significantly limit our ability to transfer detainees out of Guantanamo, even those who have been approved for transfer."
Meanwhile, Pentagon press secretary George Little said: "Over the past few months, a very senior inter-agency team conducted an intensive review of this matter.
"Based on their recommendations, and as mandated by Congress, [Defence Secretary Chuck] Hagel signed off on the legal requirements to move forward with the transfer of these detainees."
Mr Little added that the defence secretary agreed the prison should be closed.
The current hunger strike, which began in February, is the longest in the military prison's history. Lawyers representing detainees say it was sparked by tougher prison searches.
At least 100 prisoners had joined the strike.
There are currently 166 inmates at Guantanamo Bay. Some have been held there for more than a decade, and many were cleared for release years ago.