Trayvon Martin case: George Zimmerman helps family in car accident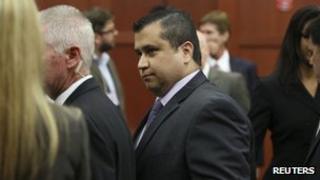 A Florida man cleared in the death of a black teenager helped rescue a family from an overturned vehicle last week, police say.
George Zimmerman, 29, and another man pulled four people from the car in Florida last week, said police.
Seminole County Sheriff's office said Mr Zimmerman left the scene after speaking to a responding officer.
The ex-volunteer neighbourhood watchman was acquitted this month of Trayvon Martin's death in February 2012.
According to police, Mr Zimmerman intervened after a sports utility vehicle carrying a couple and their two children went off the road and overturned last Wednesday.
"He did not witness the crash," sheriff's spokeswoman Kim Cannaday told Reuters news agency.
"He rolled up on it after the fact and assisted in getting the family out of the vehicle."
There were no reported injuries.
Asked if Mr Zimmerman was being called a hero, the police spokeswoman said: "We're not going that far."
The accident happened four days after Mr Zimmerman walked free from court.
He is said to have been in hiding since the end of the trial.
The not-guilty verdict has prompted nationwide protests over racial profiling and US "stand your ground" self-defence laws.